In a traditional MBA program, students receive instruction in subjects like finance, economics, accounting, management, human resources, business ethics and organizational theory. The curriculum includes theoretical knowledge in these areas as well as how to apply the content in real-world situations. As a result, the traditional MBA provides a solid foundation for a successful business career in the United States.
International business is different. To have a successful career outside of the United States, professionals need to understand how to adapt strategies to other cultures, systems and regulations. An international business MBA focuses on these areas.
The following sections outline unique topics of international business and what students can expect to learn while studying for an international business degree.
Systems of Government and Global Commerce
A traditional MBA focuses on the closed system of domestic capitalism, while an international business degree concentrates on the implications of various forms of government across the world. There are more than a dozen forms of government, and a country's form of government impacts the policies that govern its economy and business environment.
There are several implications involved with systems of government.
Political Risk: As part of the decision-making process, business professionals must assess the political risk of a country to determine if it is appropriate to engage in business endeavors in the country. These factors include the stability of the government itself, questions about the involvement of the country's government in the private sector and the specifics of the country's legal environment to enforce policies and rules. Democracy is the most popular form of government, and traditionally, established democracies such as those found in the United States, Canada, Japan, Western Europe and Australia are considered to offer considerable political stability.
Contract Enforcement: Business transactions are regulated by contract. Thus, international business leaders need to be aware of a country's contract laws before engaging in a transaction.

International contracts will have some of the same terms as domestic contracts, in addition to provisions like which country's law applies, which country's courts have jurisdiction and what currency governs the transaction.

There should also be other items such as a provision on dispute resolution, which define the terms of mediation and/or arbitration, and a force majeure clause that excuses non-performance of obligations due to factors beyond the control of the parties.
Taxes: Systems of taxation vary widely across the world. The United States has a high corporate tax rate, according to the Tax Foundation, and the highest corporate income tax rate among the 34 industrial nations of the Organization for Economic Cooperation and Development. International business leaders need to be aware of various types of taxes and incentives in the countries where they perform business.
Other implications include environmental regulations, market forces, logistics and more.
The International Monetary Fund (IMF) raised its outlook for the global economy in April 2017 due to a postelection surge in confidence in the United States, better prospects in large emerging markets like Mexico, Turkey, India and Argentina, and an uptick in global trade, according to The New York Times. The IMF forecast a growth rate of 3.5 percent for 2017. After global trade volume grew 2.2 percent in 2016, the IMF predicted that it would expand 3.8 percent in 2017 and 3.9 percent in 2018.
Interested in an International Business Career?
Acquire the skills you need to advance your career and become a top international business leader while examining foreign business practices, principles and trends.
Explore Degree
Globalization — the trend toward greater economic, cultural, political and technological interdependence among national institutions and economies — is crucial to international commerce. Organizations like the IMF advocate for policies (such as those that eliminate protective barriers like tariffs and duties) that will improve global commerce. Globalization is an important topic in international business.
Cultural Concerns and International Marketing
For business leaders who want to explore international business, another strength of an international business degree over a traditional MBA is that it looks at how to market products and services in other countries.
International marketing simply refers to applying marketing activities to more than one country. Note that some consider "international marketing" to be interchangeable with "global marketing." "Global/transnational marketing focuses upon leveraging a company's assets, experience and products globally and upon adapting to what is truly unique and different in each country," according to Warren Keegan in his book Global Marketing Management.
International marketing is more complex than domestic marketing. Technology firm Smartling notes factors such as legal differences, cultural differences, lack of market for specific products and services in some countries and language barriers. Leaders need to research the size of the market and specific laws in a given country, build a robust infrastructure (such as registering trademarks and reserving international domain names), adapt the current marketing strategy, localize the product and marketing materials to appeal to new demographics and, finally, reevaluate and adapt plans as international markets change.
Cultural concerns include religion, education, technology and material culture; political attitudes; aesthetics; and other factors. International professionals need to be aware of these types of factors to deliver relevant messages that will be accepted by audiences in a specific country. Geert Hofstede's model of "cultural dimensions" has become an accepted standard for understanding global cultures, according to Prezi regional country manager Spencer Waldron in Brand Quarterly. Each country is ranked according to certain dimensions.
Power Distance: How people respond to power.
Individualism: How much people care about the well-being of others.
Masculinity: Whether a culture believes in male/female equality.
Uncertainty Avoidance: Whether people need structure, rules and process.
Pragmatism: Respect for tradition.
Indulgence: Extent to which people try to control their desires and impulses.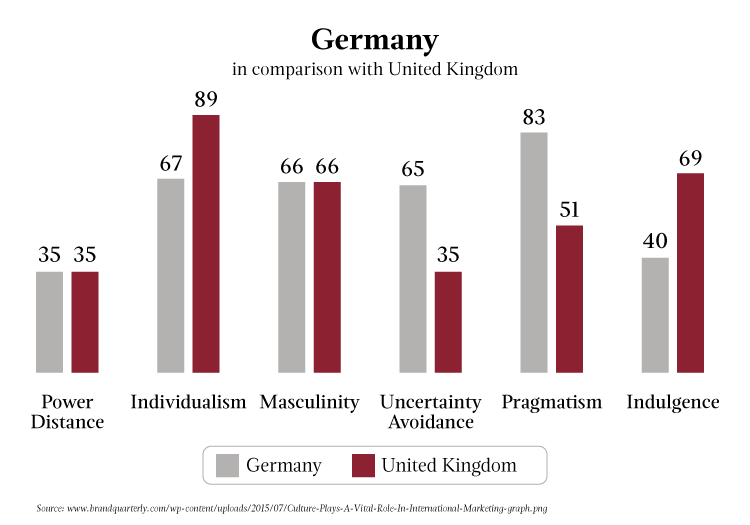 For example, comparing Germany with the United Kingdom reveals that German culture has a higher "uncertainty avoidance" score and a lower "indulgence" score, which results in avoiding uncertainty and a tendency toward cynicism and pessimism. Waldron recommended that when dealing with a German company, it is important to work through the details of a business deal and to reassure the business about what could go wrong. Discussing customer support mechanisms, security features of data and gaining trust are important goals.
International Branding
Branding is another important focus for international business leaders. Professionals who work only in the United States will encounter counterfeit items and need to have an understanding of brand and trademark infringement, but international professionals will need a stronger foundation to approach certain topics in foreign markets.
Counterfeit products result in lost profit for companies and governments. The European Union Intellectual Property Office conducted a study of the economic cost in the clothing, footwear and accessory sector, finding that nearly 10 percent of sales were lost by the sector due to counterfeiting. That resulted in approximately $30 billion of revenue lost annually and nearly $10 billion of government revenue lost from social contributions and taxes. The report estimated between 363,000 and 520,000 jobs lost due to counterfeit products in fashion.
"Not only are profits lost to counterfeiters, but also, counterfeit goods are usually of lower quality than the originals," according to Roger Meiners, Al Ringleb and Frances Edwards in The Legal Environment of Business. "So, consumers might think the trademarks do not represent quality, and the reputation of the owner can suffer."
Pursuing a Career in International Business
Campbellsville University's online international business MBA can help you become a business leader who is able to succeed across the globe. The fully online program allows you to earn the credential you need in a flexible environment, on a schedule that works for your busy life.