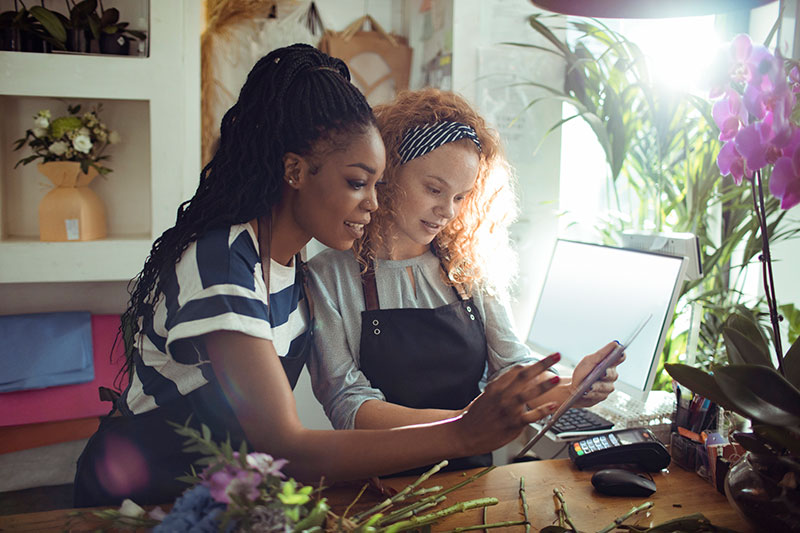 Now that your military service is coming to an end, what's next for your career?
You'll find countless professional opportunities awaiting you in civilian life once you transition from active duty to Veteran status. And while many Veterans find career success with positions in the federal government, there are plenty of opportunities for you to pursue your interests and take the wheel when it comes to driving your own professional success.
According to research published by the U.S. Small Business Administration (SBA), there are 2.52 million Veteran-owned firms, making Veterans one of the country's most successful entrepreneurial communities.
If you have a business idea you're passionate about, starting your own company could be the key to your future success. However, before becoming an entrepreneur, it's important to prepare for the challenges that may come your way. Keep reading for our guide to starting your own business as a Veteran and keeping your entrepreneurial spirit alive and thriving.
Step 1: Transform Your Military Skills
Whether you're interested in serving your family recipes in your own restaurant, offering home restoration services in your community, franchising a major chain company or starting a business that responds to a unique local demand, it's important to understand how your military training has prepared you to pursue what you're passionate about.
Military.com reports there are at least 30 military principles that can be applied in business settings. These principles include understanding risk and your competition, along with how to utilize your current resources to achieve your goals.
Additionally, advanced management and leadership skills are essential to finding success in business. Your military experience in leading, collaborating and strategizing with others in diverse circumstances will come in handy when becoming a small business owner.
Along with the strategy principles and skills you gained in the military, completing the right education can also help you become better prepared for business success. The SBA reports that 71.4% of successful Veteran business owners have a college education. Nearly a quarter of these have completed a postgraduate degree, which is a much higher rate than all other entrepreneurs.
Step 2: Plan Your Business
One of the determinants of business success is the public interest and demand for its goods or services. When it comes to choosing your market as a Veteran entrepreneur, there are several resources available designed for helping you get started in the industry of your choice.
The Office of Veterans Business Development (OVBD) offers support through the means of financial opportunities, training courses, networking and more. Let's take a look at industries where Veteran-owned businesses tend to thrive.
While Veterans have made their mark in nearly every industry, the most popular professional areas for Veteran-owned businesses are:
Professional and Technical Services
Nearly 17% of all Veteran-owned businesses are in this field. From accounting services, computer software design, marketing and more, this field includes a wide range of companies.
Construction
This industry accounts for 13% of all Veteran-owned businesses and includes companies that offer construction services for homes, retail buildings and contract projects.
Real Estate
8.6% of all Veteran-owned businesses fall under this category, which also includes rental property management.
Retail
8.1% of Veteran-owned businesses are in the retail industry, including single location businesses and franchises.
Administrative Services
8% of Veteran-owned businesses are in the administrative services industry, which includes human services, managerial and other outsourced services utilized by other companies.
Other popular industries for Veteran entrepreneurs include transportation, finance, insurance, recreation and entertainment.
Before settling on the market that's right for your own business, Forbes suggests doing some of your own research, starting with scoping out the local demand for the product or service you want to offer. Speak directly with potential customers, learn about other businesses in the same market, study the industry's economic impact and explore potential outcomes for new businesses.
One popular method for conducting this research is the SWOT analysis, which includes information on the market's strengths, weaknesses, opportunities and potential threats. Understanding these four key points of your industry will provide you with a better grasp on what to expect as an entrepreneur in the field.
No matter what industry your business may fall under, your entrepreneurship will make an impact on the economy and the lives of those in your community. All Veteran-owned businesses combined have created at least five million jobs and reaped $1 trillion in revenue.
Step 3: Strategize
Once you've chosen your market and have completed your research on the local industry, the next step in becoming an entrepreneur is to strategize a business model.
Your business model will determine the price of your goods or services, the loyalty of your customers, the popularity of your brand, the potential growth of your business and more. Because marketing, finance and production are all major components of business models, it's safe to say there's no one-size-fits-all model for success.
Whether you choose to give back to your community through a charitable approach like the one-for-one business model utilized by TOMS, or choose to bring an existing company to your area with the franchise business model used by McDonald's, the right business model can lead you to lasting success.
When it comes to choosing the best business model option for your company, here are some key factors to consider:
Production
Whether your business will sell products or provide services, it's important to factor in the cost of reaching your customers. Many small businesses invest in labor, materials and outsourced services, all of which play a major role in pricing your goods or services.
Market Competition
Learn about the business models used by other companies within your market and determine how you can avoid potential economic hardships. Developing your own marketing campaigns or outsourcing advertisements can help you beat steep competition. Additionally, developing plans of action for overcoming changes in public demand and supply chain complications can help you avoid loss of revenue and become a top company in your industry.
The Consumer
When it comes to earning loyalty from customers, it's important to understand what they look for when choosing a product or service. Company values and reputation, packaging, cost, location and brand popularity are all factors that inspire customers to make a purchase. Appeal to your target customers by learning what is important to them.
Your Own Definition of Success
Many consider the term "success" to have different meanings. Establish your business model and set your goals to fit what success means to you and what you want to accomplish as an entrepreneur.
Step 4: Execute Your Plan
After choosing the right business model for your company, the next step is choosing a business type and establishing yourself as an entrepreneur. Based on the size of your business and your business model, your company will likely fall under the category of a limited liability company (LLC), or you may pursue opportunities through a corporation. Know the difference:
LLC
As the owner of an LLC, your business debt responsibilities will be limited as you pay taxes on your personal profits from the business, rather than the business itself filing taxes separately as its own entity. In the event that your company faces financial hardship or goes out of business, creditors will not have access to your personal assets as collateral. LLCs offer lower risk than corporations and are typically small businesses that are easy to operate by a single business owner.
Corporation
Unlike LLCs, corporations are typically large companies owned by multiple shareholders and are required to pay income tax separately as its own entity. While small local businesses typically become LLCs initially, an LLC can eventually become a corporation through financial growth and expansion. You may also pursue entrepreneurial opportunities within this type of business by becoming a shareholder for an existing corporation.
Whether you choose to pursue opportunities with an LLC or a corporation, it's essential that you register your business with the secretary of state. This process costs a fee and provides you with a business license along with a tax identification number which will allow you to file taxes properly. Once you're registered, you'll also be eligible to apply for business essentials, such as bank accounts and lines of credit.
Step 5: Advance Your Education
Understanding the process of becoming an entrepreneur and harnessing your military experience for the business world will help you get started, but getting the right education can help you achieve lasting success.
The online Master of Business Administration (MBA) – Entrepreneurial Leadership degree from Campbellsville University is designed to elevate your leadership skills and help you build a name for yourself in your chosen field of business.
You'll learn from experienced entrepreneurs and business experts as you explore the tools of the small business trade and become prepared to face the challenges of business management and ownership. All courses can be completed online through an interactive, virtual classroom that allows you to access course materials when it's convenient, learn on your time and complete your education at a pace that works for your busy life.
Campbellsville University is a Yellow Ribbon school that proudly accepts a variety of military education benefits, including the GI Bill®. Put your benefits to good use and master your next mission with affordable tuition.
*GI Bill® is a registered trademark of the U.S. Department of Veterans Affairs (VA). More information about education benefits offered by VA is available at the official U.S. government website at http://www.benefits.va.gov/gibill
What Are You Waiting For?
Your time in the military was only the beginning. Build your career as an entrepreneur today with Campbellsville University.
Contact an enrollment counselor to learn more.
Get Started