The appearance of U.S. Department of Defense (DoD) visual information does not imply or constitute DoD endorsement.
Master Your Next Mission: Earn Your Degree Online
Campbellsville is committed to helping military and veteran students transition into civilian life with career-ready curriculums based on Christian principles.
As a Military Friendly® accredited university with online degree programs, we welcome active-duty, guard and reserve service members, veterans and their families with a dedicated support team, military benefits, and affordable, 100% online degree programs that allow you the flexibility to learn when and where you can.
We are proud you are considering Campbellsville University and look forward to serving you.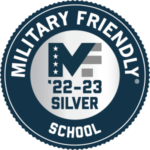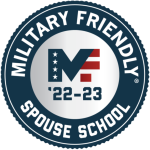 Use Your Military Education Benefits
We're committed to helping you use military education benefits to keep your out-of-pocket expenses as low as possible. We have a dedicated military support team to help military-affiliated students and their families make sense of and use their education benefits.
For more information regarding the GI Bill® or tuition assistance, please contact our Program Support Assistant III/VA Certification Officer, Beth Cochran, at ekcochran@campbellsville.edu or at (270) 789-5442.
GI Bill®
Government-Based Education Assistance
Veterans and active-duty, guard, and reserve service members, as well as their spouses and dependents, can use a variety of GI Bill® benefits to help fund their education.
You can compare benefits easily by using the GI Bill® Comparison Tool and viewing current payment rates.
Forever GI Bill®
The Forever GI Bill® expands the eligibility for and the number of education benefits provided in the Post-9/11 GI Bill®, as well as the length of time veterans have to use them. See Full Details >>
Post-9/11 GI Bill®
Get help with tuition and fees, money for housing, books, and supplies. If you've served on active duty after Sept. 10, 2001, you may qualify for the Post-9/11 GI Bill® (Chapter 33).
If you're a Reservist who lost education benefits when the Reserve Educational Assistance Program (REAP) ended in November 2015, you may qualify to receive restored benefits under the Post-9/11 GI Bill®.
Montgomery GI Bill® — Active Duty
If you have served at least two years on active duty, the Montgomery GI Bill® Active Duty (MGIB-AD) can help you pay for up to 36 months of education benefits. You must meet eligibility requirements in one of four categories. See Full Details >>
Montgomery GI Bill® — Selected Reserve
The Montgomery GI Bill® Selected Reserve (MGIB-SR) program offers up to 36 months of education and training benefits for members of the Army, Navy, Air Force, Marine Corps or Coast Guard Reserve, Army National Guard or Air National Guard. If your obligation started after June 30, 1985, or for some types of training, after Sept. 30, 1990, you may be eligible for this benefit. See Full Details >>
Veteran Readiness and Employment (VR&E; Chapter 31)
Formerly referred to as Vocational Rehabilitation and Employment, this program helps you explore employment options and addresses training needs. In some cases, family members may qualify for certain benefits. See Full Details >>
Yellow Ribbon 
Designed by the U.S. Department of Veteran Affairs, this program aims for the VA and degree-granting institutions to pay the difference between what is covered by GI Bill® benefits and the program's total cost. Yellow Ribbon funding is automatically applied if tuition exceeds the maximum state cap for tuition reimbursement and if you qualify for Post-9/11 GI Bill® benefits at the 100% rate. It does not apply for active-duty service members, spouses, or veterans receiving less than 100% of the benefit.
Our contribution pays the remaining tuition that the Post-9/11 GI Bill® doesn't cover for all eligible students seeking undergraduate and graduate degrees.
Military Tuition Assistance
DoD Tuition Assistance (DoD TA)
Active military students may be eligible to use DoD TA to cover tuition expenses up to $250 per credit hour if they're eligible.
Visit your service branch for more information:
Kentucky National Guard Tuition Assistance
Members of the Kentucky National Guard may be eligible for state financial aid programs. Guard members can find programs, eligibility, award amounts and applications on the KHEAA website.
Save Time and Money
We can help you maximize the opportunities outlined below and potentially save you time and money while earning your degree.
Campbellsville Reduced Tuition Rate
Active-duty, guard and reserve military members pursuing their degree online may be eligible for reduced tuition rates:
$250 per credit hour for undergraduate programs
$275 per credit hour for graduate programs
Get Credit for Military Experience
Based on your military training and experience, you could apply up to 24 semester hours to your degree.
If you have previous college credits, you may apply up to 72 credits for bachelor's programs and 12 credits for graduate programs.
Order Your Military Transcripts
Scholarships
We've curated a short list of scholarships for you to review to use in tandem with your military education benefits. The list is not meant to be all-encompassing, and you should seek additional sources as you're able.
Military Scholarships
The Minnesota Department of Veteran Affairs has a comprehensive list of more than 50 military scholarships, including funds for Kentucky residents. While some are state-specific, much of this list contains national scholarships available to veterans, active military, or their dependents or spouses. You can learn more about scholarships, eligibility requirements, and award amounts here.
Veterans' Service Organization Scholarships
Active-duty military, veterans, and their families can find scholarship opportunities with the following organizations.
Paralyzed Veterans of America (PVA)
Paralyzed Veterans of America offers funds to PVA members and their immediate family members through our Educational Scholarship Program. You need to be a PVA member, the spouse of a member, or an unmarried, dependent child to be eligible. See Details and Application >>
Veterans of Foreign Wars (VFW)
The VFW's "Sport Clips Help A Hero Scholarship" provides active military and veterans with the financial assistance they need to complete their educational goals with a scholarship award of up to $5,000. See Details and Application >>
Additional Military Resources
Find quick connection points to the military resources you are most likely to need.
Which Degree is Right For You?
Our rigorous programs are taught by experienced professors and allow you to learn in the times and locations that are best for you. Through our commitment to academic integrity and personal growth, you'll receive the professional preparation you need to advance your career successfully.
Decide which online degree program matches your academic experience and career goals.
*GI Bill® is a registered trademark of the U.S. Department of Veterans Affairs (VA). More information about education benefits offered by VA is available at the official U.S. government website at http://www.benefits.va.gov/gibill
The appearance of U.S. Department of Defense (DoD) visual information does not imply or constitute DoD endorsement.
Frequently Asked Questions
Yes! Campbellsville participates in VA Education Benefits programs, including the GI Bill®. In addition, we are a Yellow Ribbon school and have a reduced tuition rate for active military students.

You can apply for grants, scholarships, and federal financial aid. See the Save Time & Money tab above for the many options available. You can also

apply for federal student aid

: Campbellsville University's school code is 001959.

Yes, if you provide documentation that you are eligible and have applied for the COE. However, only the Department of Veteran Affairs can determine eligibility for VA benefits. We only provide an estimate of what the VA will pay. You will be responsible for any debt the VA does not cover. If you are unsure, wait until you receive the COE by mail.

The Post 9/11 GI Bill® does include a textbook stipend. Certain other programs may cover course materials. Contact our

Certifying Official

for additional information.

Yes, you can. We are required to report the net tuition cost to the VA after applying grants, scholarships, discounts, etc., that apply to tuition. The balance is what VA will pay under chapter 33.

No. You will not receive a W-2 from the VA, and benefits paid under any law administered by VA should not be reported as income to the IRS.

Yes! Active duty military members may receive a discount. For online, undergraduate degrees, this discount is $250 per credit hour, and for online, graduate degrees, this discount is $275 per credit hour.

You don't. Yellow Ribbon program is part of the Post-9/11 GI Bill®. Funds are automatically applied if tuition exceeds the maximum state cap for reimbursement and you qualify for Post-9/11 GI Bill® benefits at the 100% rate.

If you are a veteran, use the

Find a Form link

, search and complete VA Form 22-1990, Application for VA Education Benefits. You will receive a certificate by mail in about 8 weeks. To

access your Certificate of Eligibility (COE)

, please sign in to your account. Once you log in to your account, you can make this request. You will only be able to view the benefit if you were awarded educational benefits.

Request and provide an official copy of your JST or CCAF transcript during the admissions process, along with prior college transcripts and high school transcripts so they can be evaluated. You can order your transcripts using the appropriate military branch link below. Please note that you will likely be prompted to manually accept the DoD's security certificates.

Please contact our Program Support Assistant III/VA Certification Officer, Beth Cochran, at ekcochran@campbellsville.edu or at (270) 789-5442. You can also visit

https://benefits.va.gov/gibill/

.

It is possible. If you're authorized to use more than one GI Bill® benefit, you're allowed to use up to 48 months of benefits, but one at a time. If you have used your entire chapter 30 and have never used a different chapter (31, 32, 34, 35, 1606, or 1607), you could be eligible for an additional 12 months if you have not reached your delimiting date.

First, connect with our

Certifying Official

about which benefit you plan to use. They will be able to guide you through the process. If this is your first time using benefits at Campbellsville, you will need to either apply for benefits or transfer them to Campbellsville. This will generate a Certificate of Eligibility which will be mailed to you. You will need to submit this to the Campbellsville Certifying Official once you receive it. You will also need to submit a Veteran's Tracking form, which includes information such as program of study and anticipated hours of enrollment.