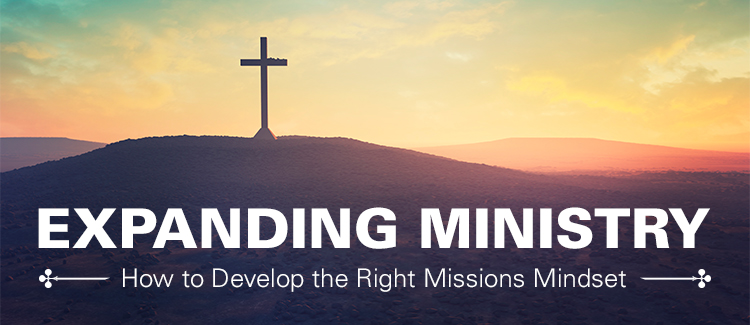 Serving God by serving others is a cornerstone of Christianity and major part of the day-to-day activities of churches and their members. While finding opportunities to make an impact on others certainly is not hard to do, developing the right mindset toward service can be more difficult. You can begin by understanding what it means to be a servant-leader and how to cultivate a missions mindset.
Understanding Servant-Leader Ministry
Christian churches and organizations often follow the servant-leader model of ministry. What exactly does servant leadership entail?
The History Behind Servant Leadership
Examples of servant leadership are found throughout the Bible, most importantly in the life of Christ.
Jesus called them together and said, "You know that those who are regarded as rulers of the Gentiles lord it over them, and their high officials exercise authority over them. Not so with you. Instead, whoever wants to become great among you must be your servant, and whoever wants to be first must be servant of all. For even the Son of Man did not come to be served, but to serve, and to give his life as a ransom for many."

(Mark 10:42-45)
Such passages are foundational for today's approach to servant leadership.
Defining Modern Servant Leadership
The modern usage of the term "servant leadership" was coined by Robert K. Greenleaf in a 1970 essay called The Servant as Leader. Greenleaf, who enjoyed a successful 38-year career at AT&T before becoming a writer and teacher for people of all faiths, defined servant-leaders as those who focus "primarily on the growth and well-being of people and the communities to which they belong."
Greenleaf's thinking spread to both secular and religious organizations with a second essay published in 1972, The Institution as Servant. This essay encouraged organizations to better society as a whole by offering opportunity for the greater good. Greenleaf's thinking helped inspire much of the charitable work that many organizations have been devoted to up to this day.
The Greenleaf Center for Servant Leadership continues the work of its founder. The international nonprofit's mission is "to advance the awareness, understanding and practice of servant leadership by individuals and organizations."

Keys to Maintaining an Active Ministry
Successfully engaging in ministry either in your local community or another community involves significant planning and work. The right missions mindset can guide you as you ensure that all aspects of a missions project are planned and prepared. Without proper organization, the missions project could fall short of the spiritual or practical ways you're seeking to make a difference in the lives of others.
Determining and Setting Goals
Any missions project should begin with developing goals and expectations for the outcome. It's important that you set clear goals that you want to achieve. By creating a strong set of goals and expectations, you can have a good idea of what the missions project should involve and who you'd like to be involved. Goals also help participants understand the missions project and what they are expected to do.
Engaging the Community
After you set clear goals, the next step is to spread the word about the missions project in your community. This involves a variety of different actions that depend on the type and size of the service you're providing.
Find Volunteers
Especially if your missions project involves a trip to another geographic location, you'll need volunteers to help in service. The volunteers should understand the goals and expectations of the missions trip and should receive training. They are representing your ministry or church, so it's imperative that they are fully aware of the goals.
Form Partnerships
Oftentimes, working with an existing charity or another ministry can help you reach a larger group of people in need. Ask community leaders where your service will be most useful, and you'll likely have more success than handling all responsibilities yourself.
Complete the Service
Whether it's raising money or participating in a missions trip abroad, the time will come for you to execute your plan. When it finally happens, keep in mind the goals and expectations that have guided you until this point. They will help you understand what your mindset should be. Unexpected issues may arise and things may change, but you'll have plenty of guidance.
Maintaining Accountability
For the duration of your missions project and after its completion, you'll need to reflect on how it went and what you learned. Looking back at the goals and expectations you set at the beginning can help you understand what went well and what didn't. Did you achieve everything you set out to do? What can you improve on in the future? These questions can help you understand how to evaluate the missions project.

Understanding Types of Christian Service
Missions and service come in all forms, from a massive effort organized by large church organizations and carried out by thousands of people across the country to a small soup kitchen operated by a dozen or so Christians weekly. With careful thought, you can identify opportunities that will work best for your church, ministry or organization.
Global Service and Ministry
Often when we think of service, we think of a missions trip taken by young adults to another country to help install wells for clean water or provide basic healthcare treatment. The reality is that global missions can have a far deeper impact and scope than what you may imagine. A well-planned global service or missions project can establish ties among churches thousands of miles apart and help church members make a meaningful impact beyond the local community.
Global ministry is a good option for those who have plenty of willing volunteers ready to travel because international missions often take significant planning and coordination. It's ideal for groups willing to cooperate with other churches, ministries or organizations.
Local Service and Ministry
It's easy to see the overwhelming poverty across the globe and forget that poverty exists right in your backyard. Local service can be as small as a canned food drive and as large as providing housing for the homeless. Some may believe that local ministry is not as "large" as global missions, but it offers just as much opportunity to serve those in need.
Local ministry is ideal for churches that have older members who can't travel easily. It's also good for smaller organizations and those that would like to have a bigger impact in their local communities.
Preparing for Missions and Ministry
Service and missions are a key part of any church's work. In our rapidly changing world, servant leadership and a missions mindset can inspire Christians to minister to others in many ways. At Campbellsville University, we offer a biblical education that prepares students for lives of ministry and leadership positions in the church. Answer your call to serve by learning more about Campbellsville's Christian ministry, Christian studies, pastoral ministries and theology programs, which can help transform one's career path toward a specific calling.