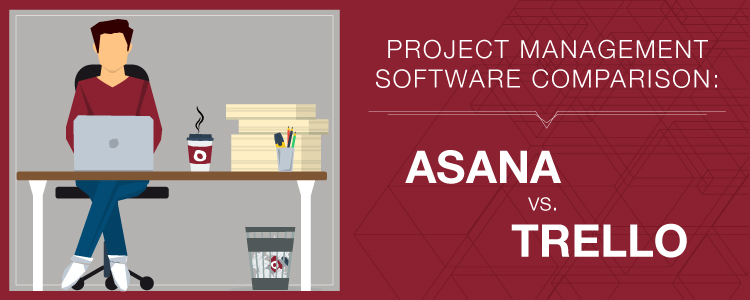 Project management software offers companies a way to organize their large amount of projects and tasks. This software allows employees to share responsibilities and often is web-based for easy accessibility from anywhere. There are countless project management software solutions, each with its own set of features and benefits. Asana and Trello are among the most popular for business use.
Asana
Founded in 2008 by early employees of Facebook, Asana bills itself as a "collaborative information manager." The word Asana is Sanskrit for yoga pose, and Asana's streamlined design style reflects that branding. A web-based solution, it focuses on managing tasks and projects without the use of email.
Features
Asana seeks to be an all-in-one comprehensive project management tool. It offers real-time changes to tasks and projects, multiple custom workspaces for teams and individuals as well as calendar views. The user experience on Asana is very intuitive and streamlined, making for easy navigation and less searching for what users need.
There are a wide variety of integrations for Asana. With options from Google Drive, Slack, Github and more, project managers can tailor the Asana experience so that it meets the needs of their company. And with mobile applications on iOS and Android, employees can truly turn Asana into a one-stop project management solution.
Pricing and Support
Asana is free for teams of up to 15 people. The premium version of Asana costs $8.33 per user per month, but that price can be reduced for smaller teams. The premium version offers unlimited tasks, projects, dashboards, conversations and more.
Asana offers several standard support options. The Asana Guide contains an extensive knowledge base designed for easy help. Asana assists teams with getting the most out of their product with the Customer Success Program, featuring a dedicated success manager for organizations of more than 50 members. The software has an FAQ page as well as an online submission form for further support.
Trello
Named one of the "coolest startups you haven't heard of yet" by Wired in 2011, Trello manages projects through simplicity designed not to overwhelm. The foundation of the web-based service is the Kanban scheduling system made popular by Toyota.
Features
Trello represents projects with boards, which contain lists that correspond to task lists. Each list contains cards, which represent tasks. Cards progress from one list to the next, mirroring the flow of a feature from idea to implementation. Users are assigned to cards to signify ownership, and each user can be a member of a team to signify his or her role.
Like its competitors, Trello allows for additional functionality through integrations. Trello calls integrations "power-ups" and can connect with services like Salesforce, Evernote, Ganttify and SupportBee. However, these integrations are only available to paying customers. Trello offers an extensive suite of mobile apps, with a presence on iOS, Android, Kindle and Windows Mobile.
Pricing and Support
Trello offers three tiers of service: free, gold and business class. The free level offers the basic Trello service for no cost, but limits card attachments to just 10 megabytes of space. Trello Gold is $5 a month per user and offers 250 megabyte attachment limits as well as the ability to customize backgrounds and more. The Trello business class is $8.33 per user per month, giving users full access to integrations and extra security with administrative tools.
For free users, the support options of Trello are limited. The company has a searchable knowledge base as well as an online submission form. Business class users have access to priority support, where their questions can be answered quickly.
Alternatives
As mentioned, there are plenty of project management systems available beyond Asana and Trello. Here are a few more options.
Basecamp
One of the first massively popular project management tools, Basecamp has been around since 2004. It's a simple and customizable tool that provides only what users need for project management. More than 100,000 companies have adopted Basecamp. The service offers several integrations but charges by the project instead of by the user.
Microsoft Project
First released for MS-DOS in 1984, Microsoft Project was one of the first project management applications. Today the software serves as the project management arm of the popular Microsoft Office family of products. With so many users having familiarity with other Microsoft products, it can be easy for users to pick up. The software can extend onto Microsoft Project Server for traditional web service functionality.
Teamwork
Created by an Irish developer, the web-based Teamwork offers fully online project management services designed for high-activity teams. Teamwork integrates Gantt charts and task dependencies directly into the service and allows for easy collaboration with team members and clients. Teamwork's pricing structure is based on the number of projects but also has space limitations.
Using Project Management to Your Advantage
Many companies need a robust project management solution to use to their advantage. At Campbellsville University, our online Master of Science in IT Management equips IT professionals with not only project management skills but also the knowledge they need to succeed in this expanding field. The fully online program gives students the opportunity to earn an in-demand credential in a flexible format. We also offer a fully online MBA with a specialization in information technology.