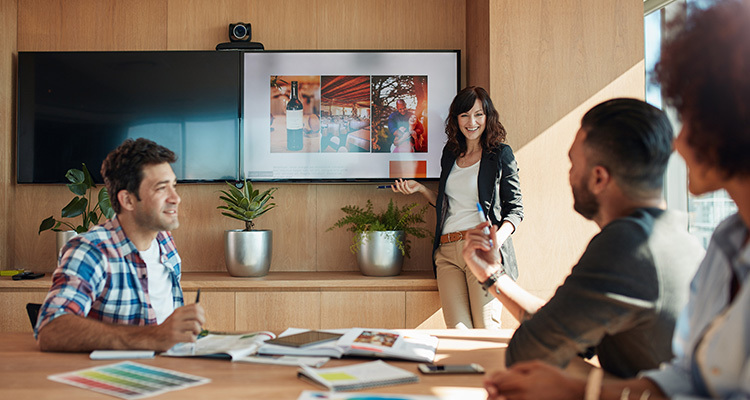 Content is all around us.
From televisions to mobile phones and computers, from advertising billboards to signs on city buses, it's nearly impossible to avoid the advertising and marketing content all around us.
Frankly, it's content overload, which makes it even more important for advertisers and marketers to maximize that moment you see their product or message.
This is context marketing — the act of producing and delivering messaging that speaks to individual consumer needs and wants at specific times in their lives. Advertisers must now anticipate and learn the best times and places to place content in front of consumers, as their time is becoming increasingly full and limited to outside options.
Ultimately, this content needs to resonate with consumers, and in order to best do that, advertisers must know the best times to reach consumers with a product or message.
Why Context Marketing?
It's often been said that content is king. But as noted before, content is all around us.
That's why marketers and advertisers need to reach consumers at just the right moment, lest the message be lost or ignored. The value of ads are beginning to diminish, as there are simply so many messages communicated to consumers.
Audiences are creating their own journeys, and advertisers must connect to that journey in order for their messages to resonate. A Salesforce Research report titled "State of Marketing" found that "85 percent of high-performing marketing teams that are implementing Internet-of-Things-based marketing rate their results as effective or very effective at helping their company to create a cohesive customer journey."
In addition, another study by Salesforce found that by 2020, 51 percent of consumers will expect companies to anticipate their needs and make relevant suggestions before customer contact. In other words, a majority of consumers will want companies to know exactly when to send an advertisement about an oil change, for example, as one's car nears the 5,000-mile mark.
Advance Your Business Career With An Online MBA
Learn advanced strategies and techniques in foundational business areas, including marketing, human resources, finances and more.
Explore Degree
Contextual Marketing Examples
An excellent example of context marketing comes from a partnership between Taco Bell and the popular GPS navigation app Waze. When a Waze user approaches a Taco Bell (at a red light, of course — safety first), an ad for the restaurant pops up in the app, alerting the consumer to a deal at an opportune time and location.
One modern-day leader of contextual marketing is Elon Musk's Tesla, Inc. Although automakers like Mercedes-Benz spent significantly more on advertising than Tesla, the electric car maker still outsold Mercedes-Benz, mainly because Tesla has a conversation with consumers about living a fossil fuel-free lifestyle, making an important connection that has led to a wealth of brand loyalty.
Similarly, the outdoor apparel company Cotopaxi has found a way to connect with consumers through conversation. Cotopaxi has used purpose-driven communication, Salesforce noted, to show consumers it cares about the same social issues they do, such as healthcare and sustainable living. This contributed to more than $900,000 in sales of a particular sweater in less than one month. Understanding the context of the time and how consumers want the companies they purchase from to be socially conscious is crucial to establishing a connection between companies and consumers.
Pursuing A Marketing Career
With companies looking for innovative ways to connect with consumers, the field of marketing is expected to grow faster than the U.S. national average through 2026.
According to the U.S. Bureau of Labor Statistics, marketing research analysts earn a median salary of $63,560 per year, and the role is expected to grow by 23 percent over the next eight years, adding more than 138,000 new jobs. The job outlook is similarly strong for marketing and advertising managers, an occupation that is expected to grow by nearly 24,000 jobs, with a median annual salary in 2016 of $127,560.
Become A Marketing Professional
As a marketer, you can be the creative mind that explores the connection between company and consumer, which could ultimately lead to exceptional career growth. Learn more about context marketing and other cutting-edge topics through Campbellsville University's fully online business degree programs, including the online A.S. in Business Administration, online B.S. in Business Administration, online B.S. in General Business and the online MBA.
Guided by Campbellsville's knowledgeable faculty, you'll learn the latest trends in business and marketing, earning a degree that enables you to advance your career. And with our flexible online format, you can balance your education with your busy life. Apply today and make your marketing career dreams a reality.