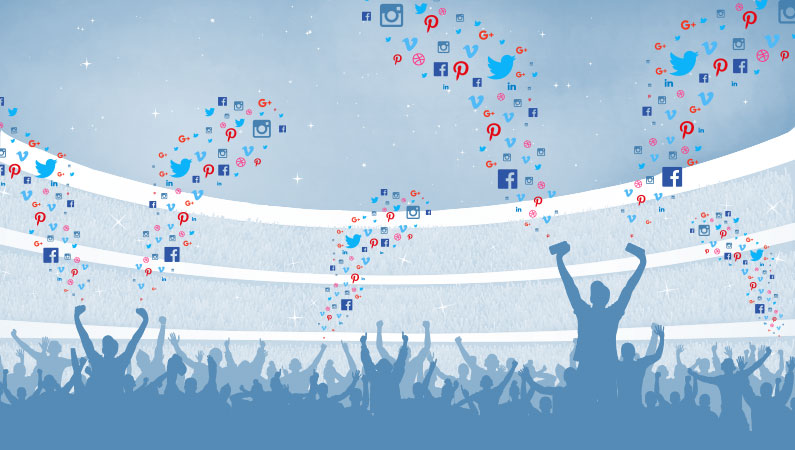 Sponsorships are a major source of revenue in sports. In 2018, more than $17 billion was spent on sports sponsorships, according to estimates from IEG. Technology and new media have affected all facets of how people communicate, and they've also transformed the sports sponsorship arena. Brands want to take advantage of the latest opportunities to align themselves with the games that so many people love. The internet and digital media are ushering in limitless opportunities for unique and innovative partnerships.
The History of Sports Sponsorship
The modern understanding of sports sponsorship can be traced back to the 19th century with the birth of the baseball card. According to The Atlantic, tobacco companies printed images of baseball stars, as well as other famous figures, and included them in packs of cigarettes as a marketing ploy. Quickly, kids who followed the game picked up the cards often discarded by their parents. In the 1930s, the Goudey Gum Company was the first to create baseball cards for the youth market specifically.
Being the American pastime, baseball continued to drive sports sponsorship. Radio broadcasting of the American League in the 1930s helped make Babe Ruth a national star and drove some of the first sponsor advertisements. That same decade saw Lou Gehrig become the first athlete to appear on a cereal box, a new General Mills product called Wheaties. Gehrig appeared on the back, but soon enough, athletes graced the front of the box.
Most sports sponsorships during the mid-20th century were "donation-based" activities, Sports Marketing explained. Companies offered financial support as a token of goodwill. Executives saw supporting sports as a way to give back to the public. That changed with the arrival of television.
Sports television broadcasts altered sponsorship relationships through exposure. Radio only allowed for sponsorship to exist when mentioned. But on television, a company logo or name could be seen for long periods of time. As a result, sports sponsorships exploded. In 1984, Nike broke records by signing a young Michael Jordan to a shoe sponsorship deal for $500,000 a year. At the time, the company was small, and the number was astronomical. It turned out to be perhaps the most influential sponsorship deal of all time. Since then, companies have continued to make sponsorship deals to advertise in new and unique ways.
Types of Sports Sponsorship
There are three traditional types of sports sponsorship, each offering a strategy for promotion. While today's sponsorships are blurring these lines, it remains common practice to align partnerships under these three umbrellas.
Sponsorships of Events
Before anything else, companies were sponsoring events. Since 1902, Slazenger has been the ball sponsor for Wimbledon. Similarly, Adidas has been a primary sponsor of the World Cup for decades. Sponsorships of the world's biggest sporting events can cost companies billions of dollars, but smaller events on a local level can be sponsored by companies wanting to make a focused impact.
Sponsorships of Teams
A partnership with a team is also a good way to work regionally. While not as prevalent in the United States, jersey sponsorships are the norm across the globe. At the collegiate level, apparel companies maintain lucrative sponsorships with universities. But in the pros, apparel deals are controlled by the league.
Sponsorships of Athletes
As athletes have more and more opportunity to develop an individual brand, their sponsorship value has grown exponentially. Michael Jordan's half-million-dollar deal would be paltry by today's standards. In 2015, LeBron James signed a "lifetime" deal with Nike that well exceeds $300 million, according to ESPN. The world's top soccer players, Cristiano Ronaldo and Lionel Messi, earn millions from shoe companies. Outside of shoes, athletes like Roger Federer, Kobe Bryant and Derek Jeter have earned several million from Gillette.
Pursue a Career in Sports Management
Sports professionals who understand the evolving sponsorship landscape will be poised for success. Campbellsville University's online M.A. in Sports Management equips students with the skills and knowledge they need to pursue careers in sports.
Explore Degree
New Frontiers of Sports Sponsorship
Just as television was the start of escalation in the sponsorship arms race, the internet has become the latest battleground. With so many options available for sponsorship, brands realize that a simple logo on the screen or a few commercials no longer suffice. Sponsorship campaigns must now be multi-channel and seek to connect with potential customers on many levels.
Social Media
The rise of social media has completely changed how many viewers watch sports. According to a Nielsen report, 45% of consumers use a second screen, such as a phone or tablet, "very often" or "always" while watching TV. This has increased the value of exposure during sporting events rather than during commercials, and it has forced brands to develop strong multi-channel partnerships.
Multi-channel approaches work especially well in sports because brands can take advantage of well-known faces across their advertising. State Farm, for example, has maintained a long relationship as the official insurance company of the NBA. That relationship involves not only mid-broadcast mentions of State Farm during games but also wide-reaching ad campaigns featuring NBA stars. State Farm capitalizes on the popularity of NBA superstars, primarily Chris Paul, and can extend its brand across channels with a recognizable face. Paul supports the company throughout social media, and the quirky commercials often become viral sensations.
Emerging Technologies and Media
While social media's growth will continue, so will the growth of new media for sponsorship. With the knowledge that most sports fans are already using their devices during the live experience, companies are providing specialized resources for them. Companies like Intel, Microsoft and SAP are offering fans massive amounts of data for unmatched access to their favorite players and teams.
Microsoft's relationship with the NFL has resulted in fans being able to track players' speed, distance traveled and other activity in real time. Intel and Barcelona soccer have made training regimens widely accessible to fans in new and unique ways. SAP is working alongside the NBA to offer advanced stats that were previously impossible to access outside of a team's front office. Each of these partnerships helps fans stay in touch with their team anywhere and anytime.
Another emerging technology on the minds of both advertisers and consumers is virtual reality. Much has been written about the potential of VR for consumers, and brands are already jumping on board. As a part of IBM's relationship with the Masters golf tournament, the computer giant offered the first foray into VR with views on two holes of the golf course. This is just the tip of the iceberg of what brands believe they can accomplish in the future.
The Future of Sports Sponsorship
Sports professionals who understand the evolving sponsorship landscape will be poised for success. Campbellsville University's online sports management master's degree equips students with the skills and knowledge they need to pursue careers in sports. The fully online program is designed for working professionals seeking a flexible education and a supportive learning environment.