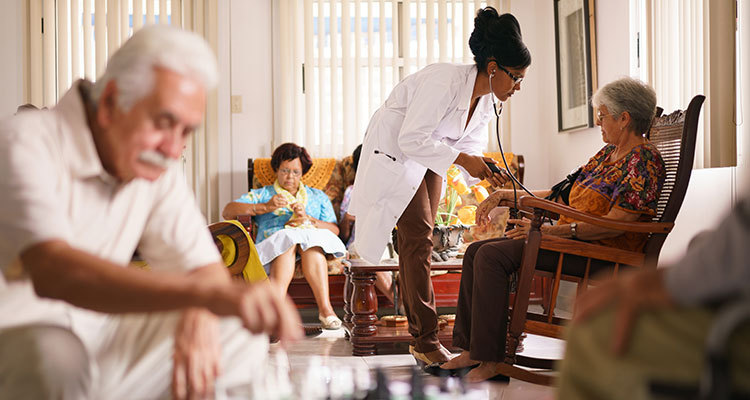 Geriatric nursing refers to the care of elderly patients. In this specialty, healthcare providers focus on issues that affect older individuals, such as Alzheimer's disease and osteoporosis.
The aging population is a leading reason for why registered nurses have such a strong job outlook. "Demand for healthcare services will increase because of the aging population, given that older people typically have more medical problems than younger people," according to the Bureau of Labor Statistics (BLS). "Nurses also will be needed to educate and care for patients with various chronic conditions, such as arthritis, dementia, diabetes, and obesity."
Learn more about the roles and responsibilities of geriatric nurses, as well as salary and outlook figures.
Geriatric Nursing Care: Roles and Responsibilities
Geriatric nurses work at healthcare facilities like nursing homes, hospitals, hospices and home healthcare service providers to care for elderly patients, who have a higher risk of developing chronic health conditions and diseases such as osteoporosis, arthritis, congestive heart failure, Alzheimer's disease, cancer and diabetes. Geriatric nurses help patients cope with and prevent these types of issues.
Specific responsibilities include the following.
Administering medications and making adjustments when needed
Creating and evaluating care plans
Exercising and massaging patients
Conducting routine physical and mental exams
Helping rehabilitate patients after injuries
Watching for signs of elder abuse
Giving advice on disease prevention and personal safety tips
Connecting patients with local resources
Transporting patients to doctor's visits and other appointments
Helping patients with daily needs, such as dressing, bathing and using the bathroom
Geriatric nurses care for patients with a variety of needs, including those with physical disabilities, diminished mental ability and many who have intense pain. By working with patients' physicians, nurses coordinate care and keep accurate patient records with the support of other healthcare providers. Geriatric nurses are responsible not only for the physical well-being of their patients, but also for their mental and emotional well-being. Nurses often serve as a liaison between patients, family members and physicians.

Advance Your Nursing Career
Our fully online degree program allows you to hone your nursing skills and develop an advanced grasp of patient care. Take advantage of reduced tuition: get your RN-BSN for under $14,000.
Explore Degree
Geriatric Nurse Salary
Geriatric nurses are required to be registered nurses. The median annual wage for registered nurses is $68,450, according to the BLS. The highest 10 percent earn more than $102,990 and the lowest 10 percent earn less than $47,120. The mean annual wage for registered nurses in Kentucky is $59,810.
Salary information is available for registered nurses in the top industries in which they work.
Government: $73,980
Hospitals: $70,590
Home healthcare services: $64,140
Offices of physicians: $61,730
Nursing and residential care facilities: $60,950
Employment of registered nurses is projected to grow 16 percent by 2024, which is much faster than the average for all occupations. In addition to growth due to the aging population, there is financial pressure for hospitals to discharge patients as soon as possible. This will result in more people being admitted to long-term care facilities and outpatient care centers, as well as a greater need for healthcare at home.
Education is paramount for nurses. "Overall, job opportunities for registered nurses are expected to be good," according to the BLS. "However, the supply of new nurses entering the labor market has increased in recent years. This increase has resulted in competition for jobs in some areas of the country. Generally, registered nurses with a Bachelor of Science degree in nursing (BSN) will have better job prospects than those without one."
Advancing Your Nursing Career
An online RN to BSN from Campbellsville University can help you pursue employment opportunities in geriatric nursing or another specialty. Develop the skills you need to improve care for patients. Learn in a rigorous environment with a convenient, flexible schedule that fits into your busy life.