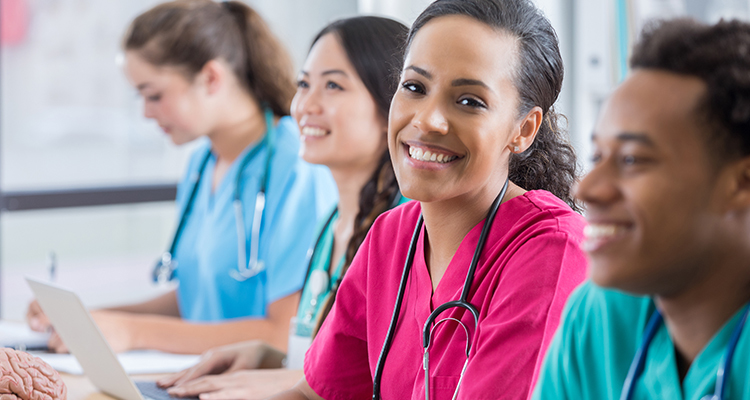 There is a nursing revolution taking place in the United States.
With the 26th state joining the Enhanced Nurse Licensure Compact (eNLC), the Interstate Commission of Nurse Licensure Compact Administrators was formed in July 2017. The new system revises the old NLC and increases access to healthcare, protects patient safety, and allows registered nurses and licensed practical nurses to cross state lines and work in other eNLC member states. The commission has set a date of Jan. 19, 2018, to implement the new standards.
History of Compact Nursing States
In 2000, Maryland became the first state to ratify a new compact that allowed nurses to practice across state lines. Many Maryland residents work across the state's borders in Washington D.C., Virginia and Pennsylvania. The NLC, created by the National Council of State Boards of Nursing (NCSBN), was the first of its kind.
"The NLC reflects an interstate agreement permitting registered nurses (RNs) and licensed practical/vocational nurses (LPN/LVNs) to have one license," according to the American Nurses Association. "The license issued by the primary state of residence gives the nurse the privilege to practice in other compact states (both physically and via technology) without having to secure an additional license."
The new standards make it easier for traveling and telehealth nurses, as well as disaster nurses, to practice in other states without the need for a temporary license.
NURSING SUPPLY AND DEMAND
Nursing is already the largest profession within the U.S. healthcare system, and it's one of the fastest-growing fields. The Bureau of Labor Statistics estimates 15 percent growth for RNs by 2026.
But according to a 2017 study by the National Center for Health Workforce Analysis, just seven states are expected to have a shortage of registered nurses by 2030. Overall, there is expected to be an excess of nearly 340,000 nurses. It's a drastic change from the same study in 2014, which projected a deficit of more than 800,000 nurses nationwide by 2025.

Advance Your Nursing Career
Hone your nursing skills while balancing your education with your daily life. The online degree allows nurses to continue practicing while earning their BSN in as little as two years.
Explore Degree
Given the shifts in supply and demand, the need to streamline nursing licenses and allow nurses to work across state lines becomes even more crucial — thus, the impetus for the new eNLC (map).
The list of current eNLC states consists of: Arizona, Arkansas, Delaware, Florida, Georgia, Idaho, Iowa, Kentucky, Maine, Maryland, Mississippi, Missouri, Montana, Nebraska, New Hampshire, North Carolina, North Dakota, Oklahoma, South Carolina, South Dakota, Tennessee, Texas, Utah, Virginia, West Virginia and Wyoming.
Colorado, New Mexico, Rhode Island and Wisconsin will remain under the old NLC laws.
Considering how many cities are located on state borders with nurses living on both sides (e.g., Louisville, Kentucky; Kansas City, Missouri; and Chicago, Illinois), as well as how many nurses travel to help in the wake of disasters, the eNLC should effectively streamline how nurses can practice across state lines, ultimately helping to provide patients with better and more efficient care.
In the wake of Hurricane Harvey, the Texas Board of Nursing provided more than 600 temporary licenses to out-of-state nurses who traveled to the Houston area to help with the relief efforts. Under the eNLC, nurses with licenses in good standing from their state will be able to work in Texas without needing to obtain a temporary state license.
UNIFORM REQUIREMENTS FOR eNLC
Nurses with licenses to practice in current NLC states will be grandfathered in, but new nurses seeking to be licensed in an eNLC state must pass the following requirements beginning Jan. 19, 2018:
Meet the requirements for licensure in the home state (state of residency)
Have graduated from a board-approved education program or have graduated from an international education program (approved by the authorized accrediting body in the applicable country and verified by an independent credentials review agency)
Have passed an English proficiency examination (applies to graduates of an international education program not taught in English or if English is not the individual's native language)
Have passed an NCLEX-RN or NCLEX-PN Examination or predecessor exam
Be eligible for or hold an active, unencumbered license (i.e., without active discipline)
Have submitted to state and federal fingerprint-based criminal background checks
Have no state or federal felony convictions
Have no misdemeanor convictions related to the practice of nursing
Not be currently a participant in an alternative program
Be required to self-disclose current participation in an alternative program
Have a valid U.S. Social Security number
The new requirements and law are much like having a driver's license for a nurse. Just as a driver can drive across state lines and must abide by the rules of the state in which he or she is driving, the same goes for nurses practicing within eNLC states.
ADVANCE YOUR NURSING CAREER
Campbellsville University's online RN to BSN helps nurses achieve their professional goals and advance their careers. The fully online degree program allows you to hone your nursing skills while balancing your education with your daily life. You can complete your degree in as little as two years.