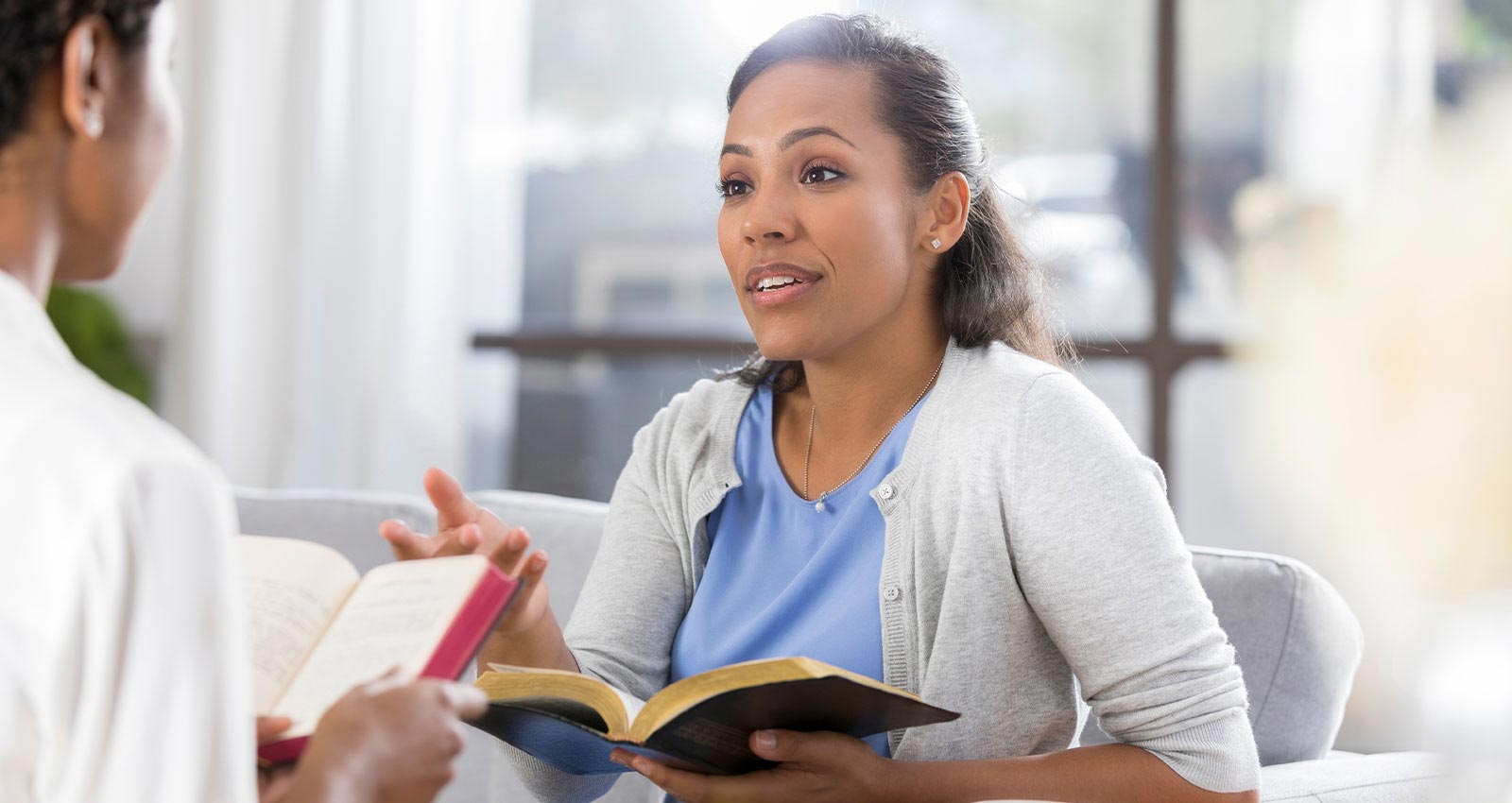 After Moses died, God called on Joshua to take over the Israelites' journey into Canaan. The Lord reiterated His promise to Moses through Joshua, and He encouraged the new leader.
"No one will be able to stand against you all the days of your life. As I was with Moses, so I will be with you" He told Joshua. "I will never leave you nor forsake you" (Joshua 1:5, New International Version). It's remarkable how in the next three verses that complete Joshua's commission to lead, God repeats that He'll be with him and then — three separate times — He tells him to be strong and courageous.
In one of those instances, God commands strength and courage so that Joshua will "Be careful to obey all the law My servant Moses gave you… Keep this Book of the Law always on your lips; meditate on it day and night" (Joshua 1:7-8).
This passage offers a model of how to encourage others in the Lord. The promises of God are powerful and life-changing, enabling you to reassure, strengthen and inspire others, as well as yourself. Combine His wisdom and truth with other spiritual and physical help to truly support others.
Meditating on the Word of God
God told Joshua to meditate on Scripture, and as Paul wrote, "All Scripture is God-breathed and is useful for teaching, rebuking, correcting and training in righteousness, so that the servant of God may be thoroughly equipped for every good work" (2 Timothy 3:16). Jesus referenced Deuteronomy when He told Satan that "Man shall not live on bread alone, but on every word that comes from the mouth of God" (Matthew 4:4).
Before you learn how to encourage others in the Lord and practice it in your life, you need to explore the source for encouragement — the Word of God. It's the sword of the Spirit (Ephesians 6:17), a lamp to your feet and a light to your path (Psalm 119:105), a living and active way to pierce the soul and spirit while understanding the heart (Hebrews 4:12) and a foundation of faith: "faith comes from hearing the message, and the message is heard through the word about Christ" (Romans 10:17).
The Bible contains what you need to understand "the way and the truth and and the life" (John 14:6) of Jesus Christ from firsthand sources. From the core message of Christianity to a multitude of experiences and wisdom, Scripture provides answers, direction and encouragement we need throughout life. Much of the time, you'll find direct advice to any given topic, but if not, you'll still be able to receive wisdom and the right way to approach the situation.
Scripture has a lot to say about to say about the importance of church community and how we, the body of Christ, should be encouraging others in the Lord. As the writer of Hebrews put it, "let us consider how we may spur one another on toward love and good deeds, not giving up meeting together, as some are in the habit of doing, but encouraging one another — and all the more as you see the Day approaching" (Hebrews 10:24-25). Earlier, the same writer said to "encourage one another daily" (Hebrews 3:13). And in his letter to the Ephesians, Paul recommended saying "what is helpful for building others up according to their needs, that it may benefit those who listen" (Ephesians 4:29).
In addition to offering a great deal of encouragement in itself, the Word of God encourages us to encourage others.
How to Encourage Others in the Lord
God may not encourage us audibly like He did with Joshua. However, we have access to His promises and truth in the Word of God. It provides one of the most natural ways to encourage others in the Lord.
Start with Scripture. You could use a topical Bible (like the topical Bible available from the nonprofit organization Crossway) to look up subjects that are addressed directly in Scripture. If that's not the case, you can still search for passages that will impact how the person approaches the situation or subject. There's no shortage of verses that can influence someone's mindset, perspective and focus.
Combine Biblical encouragement with other types of spiritual and physical support.
Spiritual Support: Pray for the person you want to encourage. Letting someone know you've prayed for them can be a great way to start a meaningful conversation, and it's powerful for the recipient to know that you've taken their situation to God. Simply talking to someone can be meaningful, and give you the chance to be there for that person and offer any help.
Physical Support: Can you run an errand or help with childcare? What about dropping off some food or sending a gift card/flowers to let someone know that you're thinking about and praying for them? Even a simple kind act can go a long way to demonstrate Christ's love and make a difference to that person.
Try not to get caught up in other details. It's easy to get in your head about whether you should call, text, send a message on social media or some other method of communication. And then if you should follow-up immediately or give someone some space. But it doesn't need to be that complicated. Reach out in kindness and love and try to be as understanding as possible.
As you learn how to encourage others in the Lord, let it become a natural part of your life. You can strengthen people even when they're not experiencing something that "big" — just let them know you're thinking of and praying for them. It can be a regular extension of your prayer list and remembering your family, friends, church community and so forth. It can be a regular extension of your Bible reading when you spot something that reminds you of someone. It can be a blessing to other people's lives, your life and, ultimately, the kingdom of God.
Encouraging others in the Lord should be a major part of any Christian's life, and that's certainly true if you have some type of leadership role in the church. By earning an online Master of Theology, you can develop the knowledge and skills to thrive in that capacity. It's also appropriate if you'd like to pursue becoming a church leader.
The degree offers three concentration areas in Biblical studies, pastoral leadership and theological studies. You'll take 18 hours in your emphasis area and then six hours in both of the other areas, for a total of 30 credit hours. It takes place 100% online, allowing you to study in a convenient format that works with your personal and professional schedule.
Campbellsville University has been ranked as one of the most affordable among Christian colleges and universities in the United States. No GRE is required unless your undergraduate GPA is below 3.0.