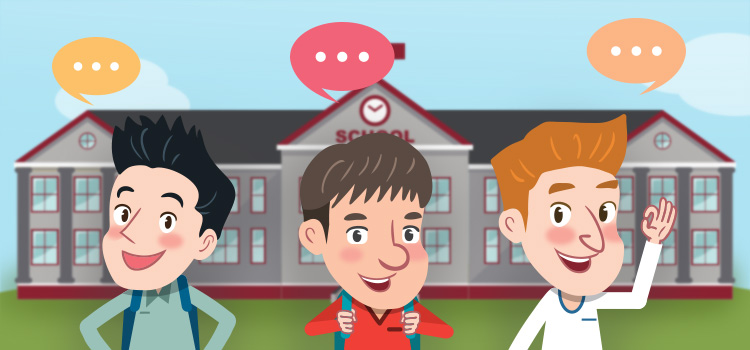 The Internet age has affected youth in countless ways, some for the better and some for the worse. Social media especially has made it easier for students to connect with each other outside of school. Communication occurs both in public and private forums. As a result, cyberbullying has become a significant problem. Fifteen percent of students in grades 9-12 have experienced cyberbullying in the past year, a survey by the Centers for Disease Control and Prevention found.
Like traditional bullying, cyberbullying can have a negative effect on the academic performance of students as well as their health and well-being. Cyberbullying mostly takes place outside of school, but it can be affected by the school climate. Educators, particularly school guidance counselors, have the ability to cultivate a positive school climate that aids in cyberbullying prevention.
Understanding Cyberbullying
The U.S. Department of Health and Human Services defines cyberbullying on StopBullying.gov as "bullying that takes place using electronic technology … devices and equipment such as cell phones, computers, and tablets." Before trying to remedy the problem of cyberbullying, it is important to understand how it is different from traditional bullying and how it affects schools.
Differences With Traditional Bullying
There are many differences that make cyberbullying a separate issue from traditional bullying. Traditional bullying typically has defined roles of bully, victim or bystander. With cyberbullying, "it's not uncommon to play multiple roles such as cyberbully, target and witness," Psychology Today explains. The digital nature of the offense makes it easier for individuals to play multiple roles.
Unlike traditional bullying, cyberbullying is usually not previously planned or premeditated. It is often carried out impulsively and swiftly. While continued instances may happen, the quick nature of electronic communication allows for faster responses. Cyberbullies are less likely than traditional bullies to seek out power through attacks, proactively target a victim and show aggression in other parts of life.
Cyberbullying can occur at any time on any day. Traditional bullying is more likely to occur during particular times and can only happen when the bully and victim are near each other. Advances in technology allow cyberbullies to prey on victims whenever and wherever. They can bully others anonymously, making it hard to trace the source or delete a message.
Serious Effects of Cyberbullying
Just like traditional bullying, cyberbullying can have significant negative effects on academic performance, including lower GPA and standardized test scores, according to StopBullying.gov. Victims are more likely to miss, skip and even drop out of school.
Even though cyberbullying happens through electronic communication, it can have an effect on physical health. An article in Adolescent Health, Medicine and Therapeutics determined that victims of cyberbullying experience more severe forms of psychological and physical health concerns including anxiety, depression, sleeping problems, headaches and other ailments. They are also twice as likely to have attempted suicide.
How School Climate Can Affect Bullying
In the fight for cyberbullying prevention, school climate has a large effect on curbing the practice. "Create a climate related to connectedness, belongingness, safety, school spirit, good morale," advises Dr. Sameer Hinduja of the Cyberbullying Research Center. It can make a big difference in making students feel safe. Without this kind of school climate, students may feel like they can participate in cyberbullying without being noticed or anyone caring.
That sense of anonymity can contribute to more cyberbullying. Students without a sense of connectedness and belonging share posts with their friends and gossip about victims. This gives the cyberbully a sense of accomplishment, leading to future incidents.

Strategies for Changing School Climate
Guidance counselors can be a major driver of change in school climate. With support from the principal and fellow educators, guidance counselors can make their school a safer place for cyberbullying victims and an environment less enticing to bullies. Here are seven steps to improve school climate from the Cyberbullying Research Center.
1. Raise Awareness
For students to understand that cyberbullying is not acceptable, they must first understand what it is. A guidance counselor can develop an education program for teachers to use to inform students about cyberbullying and promote awareness. Students must learn about the causes, consequences and effects of cyberbullying on themselves and others. If students know that they should do something to stop cyberbullying, they are more likely to act.
2. Develop Lines of Communication
Students should understand that they can talk to a school guidance counselor in confidence. By underlining the importance of open communication, a school guidance counselor can help build an atmosphere of trust. Encouraging dialogue leads to more students reporting what they see and hear. That can help in the process of cyberbullying prevention.
3. Learn the Names of Students
The easiest way to be personable with students is learning their names. When an administrator is able to identify students by name, they feel important, trusted and safe. This can help in the process of finding witnesses of cyberbullying and helping victims gain the courage to speak up. If students feel comfortable with just one adult at their school, they'll discuss what is happening to them online.
4. Allow Anonymous Reporting
Some students may not feel comfortable talking about cyberbullying, even if school administrators, teachers and staff go out of their way to develop trust. This is where anonymous reporting can be of assistance. Safe and private reporting methods, such as a form on the school website or a phone number for confidential calls and text messages, may encourage students to voice their concerns. This is especially important for victims who feel too embarrassed to come forward or friends of cyberbullies who may not want to jeopardize their relationships.
5. Construct Positive Social Norms
Cyberbullies often poke fun at what they do not understand. Bullies are more likely to act on something that they perceive as strange, whether it's an unusual behavior or a legitimate disability. In this case, a school can educate all students about positive social norms. Help students understand that differences are a part of life. Take the time to promote the positive happenings at school and commend acts of kindness. Show that compassion is more valuable than negativity.
6. Enlist Students to Help
The reality is that cyberbullying happens because adults are not using the same modes of communication as students. Enlist the help of students to keep watch over others. These peers can talk to victims and encourage them to speak up, they can promote positivity, and they can confront cyberbullies. Empowering students can be a big benefit in creating a positive school climate.
7. Collect Information
Informal data can help with understanding how cyberbullying is affecting the student population. Distribute a survey and ask if students know of instances of cyberbullying. The numbers won't be 100 percent accurate, but they will give a good picture of how cyberbullying is affecting the school. If there's a spike in reports, then take that as a sign to do more. Numbers provide a better idea of what is happening to students.
Understanding the Importance of School Climate
Creating a safe, orderly and welcoming learning environment is vital to educating and preparing students to achieve their highest potential. School guidance counselors are in a strategic position to provide leadership in cyberbullying prevention efforts by building a more positive school climate. Campbellsville University offers an online Master of Arts in Education in School Guidance Counseling (P-12) that is ideal for teachers looking to expand their skills and knowledge to excel in the field. The fully online program can help you take the next step in your education career.