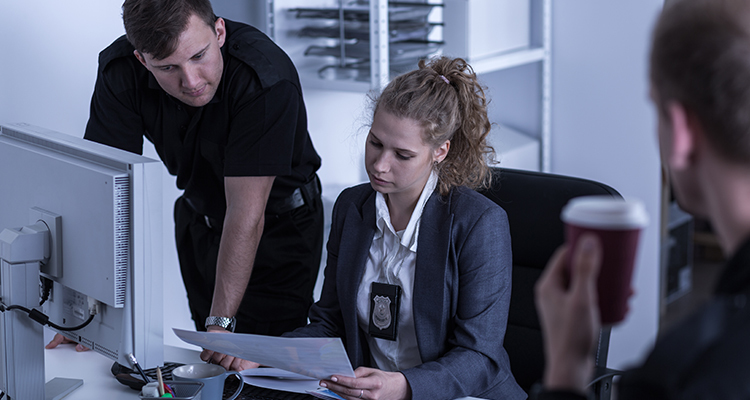 The field of criminal justice is diverse and full of different opportunities for those who are interested.
Perhaps some of the most recognizable criminal justice careers are police officers, special agents and prosecutors, but jobs such as private security managers, legal assistants and game wardens are also included in this industry.
Jobs in law enforcement can be found on every level of governance. Those seeking law enforcement careers can often find positions that allow them to utilize their personal strengths and interests. A few of them are explained below.

Criminal Justice Careers
Police Officer
The most basic description of what a police officer does is as such: police officers protect lives and property, according to the U.S. Bureau of Labor Statistics. Officers patrol neighborhoods and respond to crimes, accidents, fires and more, all in an effort to maintain peace and safeguard a community at large. Of course, police work can be physically demanding, stressful and ultimately dangerous when dealing with an armed criminal or trying to save someone from a life-threatening situation.
Annual Salary: $61,600
Education Level: Officers range from high school graduates to holding college degrees, but most police officers must graduate from their agency's training academy and complete on-the-job training.
Probation Officer
Probation officers supervise and work with individuals who have been placed on probation for an offense in lieu of receiving a prison sentence. These officers work in a much less dangerous setting, but that doesn't mean their jobs are any less important. They provide social support to probationers to help them rehabilitate their lives and reintegrate into society.
Annual salary: $50,160
Education level: Probation officers usually need a bachelor's degree, and most employers require candidates to pass oral, written and psychological exams.
Correctional Officer
Correctional officers — like their colleagues outside the walls of correctional facilities — work in stressful and, at times, dangerous environments. Correctional officers are responsible for monitoring individuals who have been arrested and are awaiting trial or who have been sentenced to a prison or jail sentence. Like police officers, correctional officers work in shifts to ensure all hours of the day and night are covered.
Annual salary: $42,820
Education level: Requirements vary by state, but in general, correctional officers must attend a training academy and then are assigned to a facility for on-the-job training.
Pursuing a Career in Criminal Justice
Jobs in law enforcement can be found on every level of governance, from peace officers to paralegals. Start on the path to your law enforcement career today.
Explore Degree
K-9 Officer
K-9 (shorthand for "canine") officers are responsible for handling, working alongside and caring for dogs that are trained to serve as police officers. K-9 units can be used to seek out drugs, evidence, missing persons or their remains, firearms and explosives, wildlife and much more. K-9 units are also responsible for pursuing and apprehending criminals.
Annual salary: $61,600 (salary data is similar to that of a police officer)
Education level: Most K-9 law enforcement officers have at least two to four years of active duty experience prior to applying to become a K-9 officer.
U.S. Marshal
U.S. marshals are considered the "enforcement arm of the federal courts," according to the agency's official website. The duties of a U.S. marshal are wide ranging. Those in this criminal justice career may be involved in protecting federal judicial officials, such as judges, attorneys or even jurors. They may arrest and capture federal fugitives, provide security for government witnesses, manage prisons, transport criminals, handle and seize forfeited or illegally obtained property, conduct tactical operations or serve the federal courts.
Annual salary: $45,371
Education level: Bachelor's degrees are required, and applicants must complete a rigorous 21-and-a-half-week training program at the U.S. Marshals Service Training Academy in Georgia.
FBI Agent
According to the agency's official website, those who work as FBI agents support a variety of endeavors that reinforces the mission of the Federal Bureau of Investigation. Agents may be called upon to testify in federal court, execute search warrants, gather evidence, meet with sources to gather information or make arrests. They also may work in specialized areas such as training, fingerprinting, lab services or public affairs.
Annual salary: $63,551
Education level: A four-year degree is required to become an FBI agent or an equivalent combination of education and experience. Prior experience in a branch of the U.S. armed forces is preferred.
Special Agent
"Special agent" is a term that encompasses a variety of roles. Generally, a special agent is someone who works as a criminal investigator for a government agency at the federal, state, city or municipal level, according to Sokanu. These agents may investigate criminal violations, gather evidence, interview witnesses, conduct undercover assignments, advise on security matters and other related duties.
Annual salary: $79,241 (salary listed for special agents on the federal level)
Education level: A bachelor's-level education is the minimum requirement for this position.
Fish and Game Warden
Fish and game wardens are responsible for preventing violations of laws pertaining to fish and wildlife. They help ensure the safety and security of natural resources and those who use them. A fish and game warden's duties may include investigating reports of damaged property or injured wildlife, compiling biological data, patrolling areas, presenting evidence for court actions, protecting and preserving wildlife, promoting safety training for hunters and trappers, issuing licenses and other related duties.
Annual salary: $54,760
Required education: A bachelor's degree is typically required for this job.
Private Security Manager
A private security manager's job is to oversee the security operations of an entity, persons or organization. Security managers must plan and manage all security operations, as well as report to their supervisors. Many candidates for this position enter the field from a career in law enforcement or the military.
Annual salary: $82,237
Required education: Requirements differ by organization, but most private security managers need a license to work, as well as one to legally carry and use a weapon.
Paralegal
Paralegals and legal assistants help prosecutors and lawyers prepare for hearings and trials, according to the BLS. A paralegal's primary duties are to organize and maintain files, conduct legal or criminal research and draft documents. Much of the crucial behind-the-scenes work done for prosecutors and defense lawyers is performed by paralegals.
Annual salary: $49,500
Required education: Most organizations require a bachelor's degree in paralegal studies or a similar degree.
Pursuing a Career in Criminal Justice
If any of the above careers interest you, consider pursuing a career in criminal justice. Campbellsville University can help you achieve those career goals with our three fully online criminal justice degrees: the A.S. in Criminal Justice, B.S. in Criminal Justice Administration and M.S. in Justice Studies. At Campbellsville, you'll enjoy a student-first environment that motivates you to succeed, while learning from professors who have real-world experience. And you can take advantage of our online format, allowing you to balance your education with your busy life.