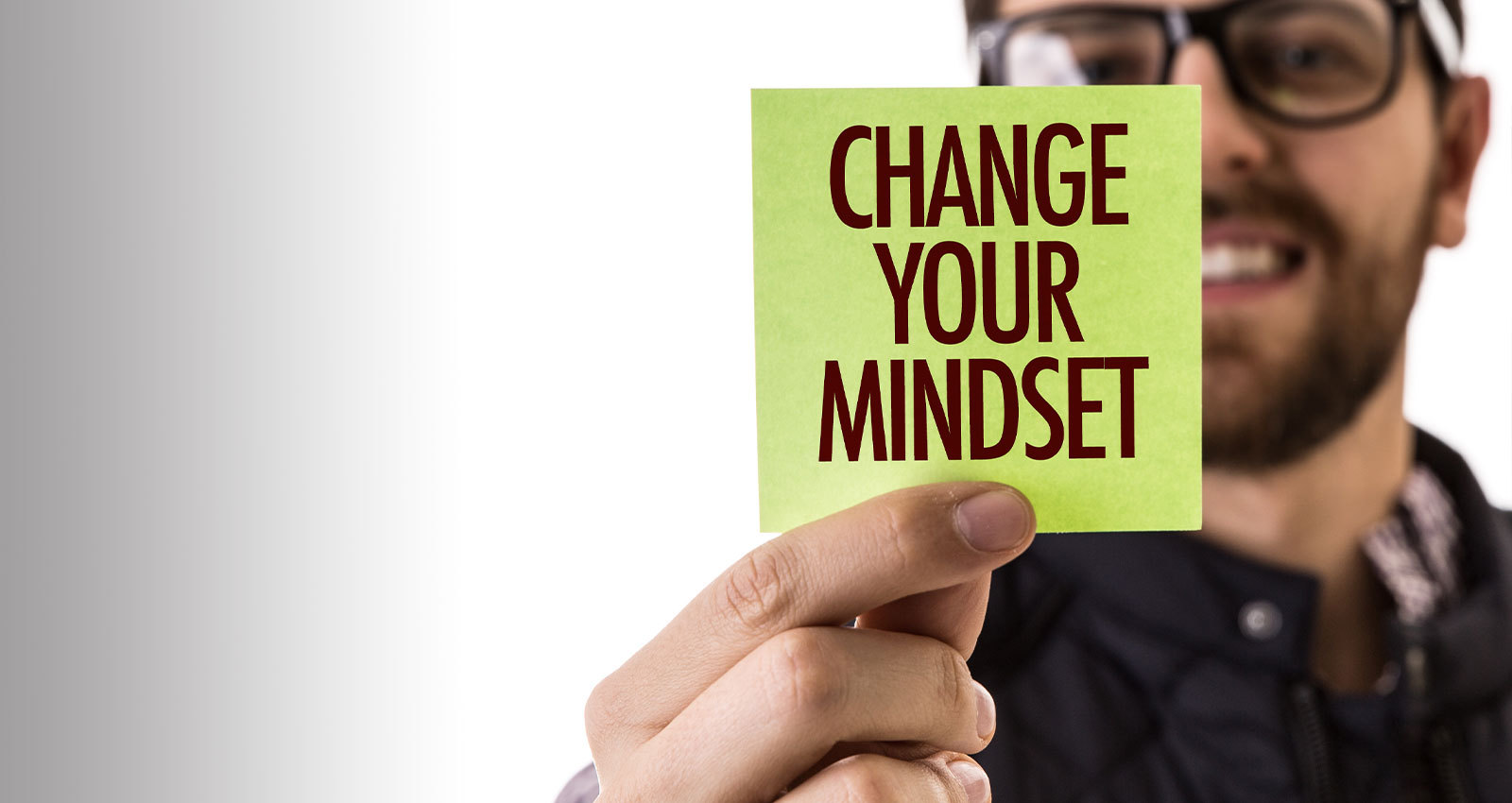 Every business is bound to go through moments of ambiguity as it evolves. Leaders who can help employees navigate challenging times and learn to address recurring problems can make a huge impact during that process. That's why adaptive leadership is so important.
Adaptive leadership is a management framework designed to help organizations not just navigate change and uncertainty, but to embrace both. This leads companies to successfully adapt, while staying true to their values and strengths.
Adaptive Leadership Theory
Research by leadership experts, professors and authors Ronald Heifetz and Marty Linsky formed the basis for the theory. They suggested that business environments are everchanging and must be navigated appropriately. Applying adaptive leadership theory, professionals anticipate and identify the root causes for challenges and find ways to sustainably overcome them. This requires leaders to be more than just figureheads handing down direction. Instead, they must be open to feedback, ready for inevitable change and prepared to shift course when necessary.
When overcoming challenges with adaptive leadership, it's important to know the difference between a technical challenge and an adaptive challenge. A technical challenge can be addressed fully with a one-time solution. Adaptive challenges take time and often require cultural shifts in organizations. They usually come during times of growth or transition and involve everyone in a business to change their strategies long term.
Dimensions of Adaptive Leadership
Avoiding top-down leadership requires rethinking what it means to be a leader. There are distinct actions that make a person an adaptive leader. The practice of adaptive leadership includes four dimensions.
Navigating Business Environments
Leaders must be flexible and accept change as part of the business lifecycle. Adaptive professionals don't fear uncertainty, and instead, they embrace it. A great adaptive leader learns from change and uses it to find better solutions.
Taking an adaptive approach means thinking outside of the box and challenging the way things have always been done. An adaptive leader cares less about procedures that rule the business world and more about what path is the best way forward for all members of the organization.
Leading with Empathy
Understanding what's best for all members of the organization leads to empathy. It's imperative to understand the viewpoints of employees, stakeholders and customers. In fact, adaptive leaders argue it's the only real way to fully meet their needs.
A good adaptive leader understands differing perspectives. At its best, this can foster trust, autonomy and recognition in an organization.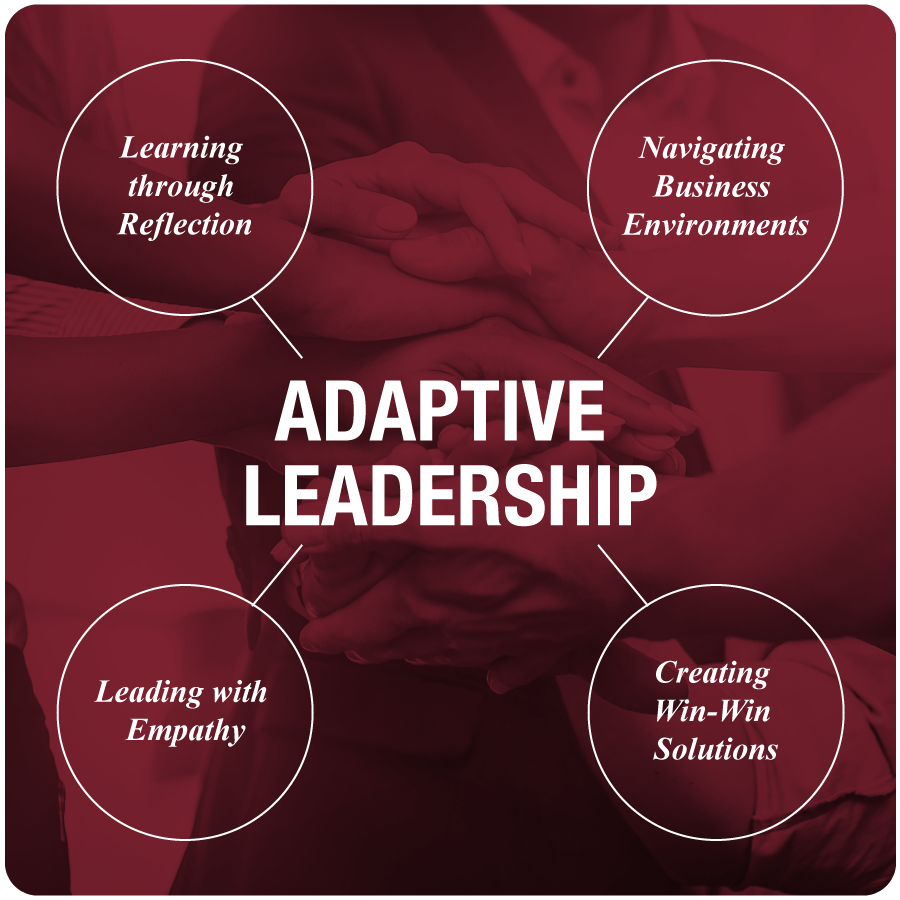 Learning Through Reflection
Leaders make mistakes just like everyone else. An adaptive leader learns from them and adjusts accordingly. They also encourage the rest of the business to do the same. This can create a culture of experimentation, which facilitates finding the best solutions to recurring problems.
When managers and employees reflect on their failures as well as their successes, they can find what works and what doesn't through a series of trial and error. This approach can be most successful when leaders give employees room to try new things and permission to fail from time to time.
Creating Win-Win Solutions
Adaptive leaders ignore the idea of crushing competitors and ruling with an iron fist. They find solutions for multiple people and organizations so everyone wins whenever possible. Adaptive leaders see the value of partnerships and explore opportunities for more than one organization or individual to achieve success simultaneously.
Benefits of Adaptive Leadership
Adaptive leadership entails understanding the business landscape, preparing for obstacles and being open to continual adjustments in order to solve complex business problems. This approach is valuable when no obvious solution is on the table as it relies on a diversity of viewpoints and experimentation.
There are many benefits to adopting an adaptive leadership approach, no matter what stage of the business lifecycle an organization is in. A few include:
Leadership is Everyone's Responsibility: Everyone is encouraged to experiment and address each project with the goal of coming to the best solution, not just following rules or a task list.
Thinking Outside of the Box is Celebrated: Adaptive leadership helps employees be comfortable with change and makes creative solutions commonplace. These leaders embrace uncertainty and grow from it instead of reacting in fear.
Diversity is the Focus: Adaptive leaders love hearing a multitude of perspectives, giving everyone the opportunity to have their voice heard. This is more likely to ensure solutions that make everyone feel comfortable and valued.
The benefits for each organization may differ, but in general, adaptive change allows for creativity, collaboration and the sharing of many perspectives. This leadership style requires individuals to develop skills they might not have otherwise attained.
Advance Your Business Career
Looking to grow your leadership skills? Consider an MBA from Campbellsville University Online. Our online MBA teaches advanced strategies and techniques used in foundational business areas.
Explore Degree
Characteristics of an Adaptive Leader
The characteristics of an adaptive leader may not be the typical ones pictured in a business leader. As Pamela Dicent, manager of strategic operations and evaluation at NYC Department of Education said, "Practicing an adaptive approach is challenging because it often goes against the way we normally operate and how we make sense of the world. And it can involve you, your team and your organization – which can be daunting forces to influence."
What are the ways that professionals can take an adaptive approach and buck the norms they think of when they picture a leader? Four key adaptive leadership traits emerge. They include:
Emotional Intelligence: An understanding of personal feelings and empathy towards others. This skill builds trust and quality relationships in an organization. Adaptive leaders understand the goals of the stakeholders involved and know that change can be hard.
Organizational Justice: Honesty and openness. It's important to not skirt around the truth or give people only the good news instead of all the facts. Honesty can ensure that changes are embraced and understood by employees and stakeholders.
Character: Transparency and creativity. This skill is about earning the respect of those who rely on the leader. The ability to admit mistakes and abandon paths that don't work is key. An adaptive leader embraces diversity in their organization and uses it to benefit everyone.
Development: Learning and growing continually. An adaptive leader will try new strategies so that companies can become better through change. They empower those around them to develop to their full potential. Those practicing adaptive leadership encourage innovation and experimentation, even if failure results.
In Forbes, Travis Bradberry, author of Emotional Intelligence 2.0 and cofounder of TalentSmart, said, "These things are not innate qualities of brilliant and inspirational people that you should aspire to; they are practical, repeatable skills that any leader can adopt with effort."
In other words, adaptive leaders are not born to be adaptive. They work to develop the skills needed to excel in adaptive leadership and help their companies overcome obstacles and navigate change.
Looking to grow your leadership skills? Consider an MBA from Campbellsville University Online. Our online MBA teaches advanced strategies and techniques used in foundational business areas. We offer seven MBA concentrations, which are taught by faculty members who have real-world experience in business. They include accounting, human resource management, marketing, information technology, international business, healthcare management and church management. Discover how you can incorporate adaptive leadership into your business with CU Online.