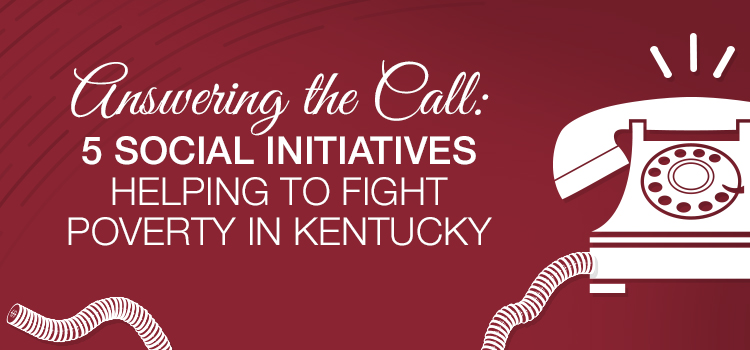 The poverty rate in the United States is 14.8 percent, based on the latest data from the Census Bureau. Almost 47 million Americans have an annual household income that falls below the poverty line, which is about $24,000 for a family of four. The statistics are even higher in Kentucky.
At 18.8 percent, the poverty rate in Kentucky is the fifth highest in the country. The percentages rise dramatically among women, children and minorities.
25 percent of children live in poverty (10th in the nation).
7 percent of working-age women live in poverty (second in the nation).
7 percent of Asian-Americans live in poverty.
3 percent of African-Americans live in poverty.
1 percent of Latinos live in poverty.
Clearly, Kentucky struggles with poverty. That's why many social initiatives are answering the call to address this complex problem.
Major Issues Affecting the Poor
Hunger
According to Feeding America, one of every six Kentuckians faces food insecurity, which is defined as a "lack of access at times to enough food for an active, healthy life" and a "limited or uncertain availability of nutritionally adequate foods." The household food insecurity rate is 17.2 percent, and the child food insecurity rate is 22.4 percent.
Homelessness
A count by the Kentucky Interagency Council on Homelessness shows that 5,245 Kentuckians are homeless. The actual number of homeless Kentuckians is almost certainly larger, as the data only includes those in shelters and known areas. Homelessness disproportionately affects veterans, people with chronic or mental illnesses, individuals struggling with substance abuse and addiction, and victims of domestic violence.
Crime
Violence against the poor is a reality. According to the Bureau of Justice Statistics, people living in poverty had more than double the rate of violent victimization, such as sexual assault, robbery and aggravated assault, than people in high-income households. This is just one example of the correlation between poverty and crime.
Education
The high number of children living in poverty has a broad impact on education. Kentucky Youth Advocates believes that the statewide educational level of children will not improve at a "sufficient pace" until poverty is addressed. Children affected by poverty are less likely to succeed in school, and they are less likely to pursue a college degree.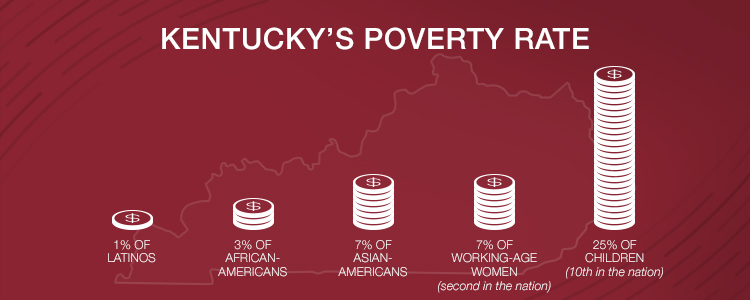 Five Social Initiatives Fighting Poverty
Governmental offices, nonprofit groups and charities are all working to help solve the poverty problem in Kentucky. They use a variety of strategies and focus on different aspects of this large issue. The following five initiatives are well-respected and supported by both citizens and the government.
Throughout his second term, President Obama has designated several "promise zones," which receive federal funds to fight poverty and improve the overall quality of life. Southeastern Kentucky is home to the only rural promise zone, a partnership of eight counties.
KHIC is the lead entity of the promise zone and is using both public and private partnerships to target development in the region. Some priorities include building affordable high-speed Internet, improving drug and alcohol rehabilitation services and bolstering economic development. The group has a 10-year strategic plan to guide its major efforts in the region.
SOAR works to improve the quality of life throughout Appalachian Kentucky. The initiative works with a wide variety of public and private entities to identify opportunities for agriculture development, increasing tourism and improving the well-being of the people in eastern Kentucky. SOAR is an initiative begun in 2013 by the state government and works as a collection of individuals committed to creating change in 10 areas of focus (e.g., business recruitment, education and retraining, health, infrastructure). Members of the SOAR Advisory Council are leaders in their fields and have significant experience working in eastern Kentucky.
SOAR focuses on creating "tangible change" through the awarding of grant money, including $33.2 million in 2015. SOAR also reaches out to state universities to inspire students to help find new solutions that can help move the region forward. Although still young, SOAR is certainly fostering real change in the region.
In the fight to end homelessness in the Bluegrass, KICH leads the way. The group's mission is to coordinate the many organizations working with the homeless and develop a larger strategy across the state. Started in 2002 by the Kentucky Housing Corporation, KICH has grown to represent 20 agencies, nonprofits and advocacy groups working to help the homeless.
KICH focuses mostly on interagency collaboration. This is especially true in systematic efforts to improve delivery of services. For example, KICH helps groups organize their efforts in the winter as the cold has a substantial impact on the homeless. The group also serves as a representative when policy is developed in Frankfort.
Kentucky Youth Advocates believes that "all children deserve to be safe, healthy and secure." KYA works to help reduce the number of children living in poverty, mostly through working alongside legislators to improve policy.
In the realm of poverty, KYA is seeking to create a state earned income tax credit (EITC) that would assist working families in making ends meet. KYA also offers assistance to families, including coordinating health and safety services across the state, and works to improve education standards, especially in high-poverty areas.
KAFB is one of the leading nonprofits organizing food banks across the state's 120 counties. The group partners with seven member food banks to ensure that citizens always have an option to find the food they need. With a network of more than 1,000 food pantries distributing 60.5 million pounds of food annually, the group estimates it reaches one in seven Kentuckians each year.
KAFB offers the Farms to Food Banks program that helps farmers sell excess produce to stock pantries. The No Kid Hungry campaign works to end childhood hunger through increasing access to federal nutrition programs among Kentucky's children. KAFB also orchestrates food distribution in times of emergency and helps fill the gaps when disaster strikes a region of the state.
Continuing the Fight to End Poverty in Kentucky
Social workers often play a key role in initiatives that benefit the poor. An education in social work provides the skills and knowledge needed for a successful and rewarding career in the profession. Campbellsville University offers online Bachelor of Social Work and online Master of Social Work degrees that are both affordable and convenient. Courses are taught by instructors with years of experience making a difference. Learn more about answering your call to serve others today.