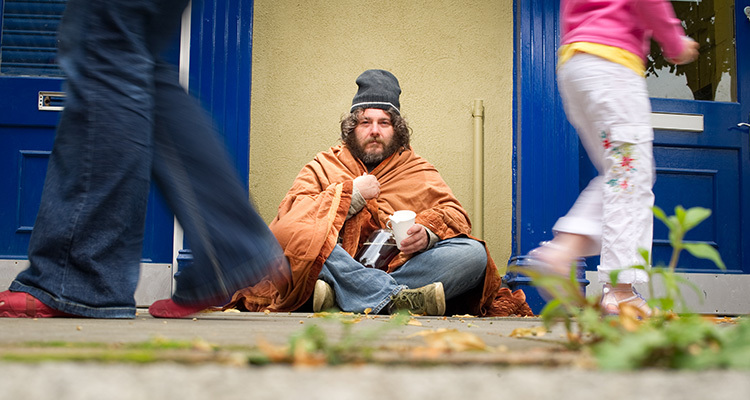 In the United States, a significant number of people are considered homeless. In January 2015, more than half a million people slept outside, in an emergency shelter, or in transitional housing during a single night. In 2014, 7 million people resided in homes with other families, a plight that often precedes homelessness.
A variety of factors contribute to homelessness in the U.S., including a lack of affordable housing, low wages, poverty, and unemployment. In recent years, the American housing crisis escalated the number of families living without homes in this country.
There are federal programs in place to address homelessness in urban areas, but funding for these agencies has been curtailed in recent years and is under constant threat of additional cuts.
Causes of Homelessness
Homelessness is a complex issue, and there are many different reasons why families suffer.
Lack of Affordable Housing
While construction in urban areas is frequent and ubiquitous, 80 percent of such projects are exclusive high-rises that often replace older, more affordable housing in the area. Even in areas where housing is readily available, many families cannot afford to live there. In 2012, 10.3 million renters were identified as having "extremely low incomes" (ELI). Concurrently, only 5.8 million rental units were deemed as affordable by those individuals. Furthermore, 75 percent of ELI households routinely spent more than half of their incomes on rent and utilities, leaving little money for other necessities, such as groceries, medicine, and transportation.

Earn Your BSW And Pursue A Social Work Career!
Learn the fundamentals of the complex social work field, including social policies, crisis intervention and marriage and family relationships.
Explore Degree
Unemployment, Low Wages and Poverty
The last decade's Great Recession saw the rate of Americans living at or below the poverty line surge to 15 percent. Combined with a lack of affordable housing available and the subsequent housing crisis, many families were left without the means to afford basic necessities, like housing.
But economic recession is not the only factor driving up the poverty rate in the United States. While the wealthiest 1 percent in this country currently earn an average of $1.3 million per year, the average post-tax income of the poorest 50 percent of Americans is around $25,000 per year, according to 2014 data. In the last 30 years, wages in the U.S. have not kept pace with cost of living increases, creating an ever-widening gap in income inequality. And since 1970, the minimum wage has grown 353 percent, but the Consumer Price Index has increased 482 percent, and the average cost of a home has ballooned 917 percent.
Mental Illness, Substance Abuse and Lack of Services
Nearly a quarter of the homeless population has a severe mental illness. Among those individuals, almost half deal with substance abuse and dependence. According to the National Coalition for the Homeless, "Contrary to popular belief, many homeless people with severe mental illnesses are willing to accept treatment and services. Outreach programs are more successful when workers establish a trusting relationship through continued contact with the people they are trying to help."
Pursuing a Career in Social Work
Between 2014 and 2015, the homelessness rate in Kentucky decreased by more than 10 percent. Despite that, more than 4,000 individuals in the state remain homeless, and skilled social workers are needed to serve the homeless population. An online social work degree from Campbellsville University can help you learn the skills you need to help Kentucky's homeless. Learn in a dynamic online environment, on a schedule that works for your busy life.