Kentucky needs social workers, and demand for social workers is expected to increase in the coming years. Social work is among the 20 most-needed professions in the state, according to the Kentucky Occupational Outlook to 2024 report. Job growth for social workers is expected to range from 6 percent to as much as 37.5 percent, depending on field. The steps below outline how to become a social worker in Kentucky.
Education Requirements for Kentucky Social Workers
Education is a requirement for social workers in Kentucky. In fact, the Kentucky Board of Social Work mandates that anyone seeking licensure possess a bachelor's degree in social work from a school accredited by the Council on Social Work Education (CSWE) at the very least. Such a degree program provides students with training on human behavior, policy and research methods and also provides some field experience. A bachelor's degree in social work is the requirement to become a licensed social worker (LSW) in Kentucky. Earning a Bachelor of Social Work degree may qualify a graduate for "advanced standing" in a Master of Social Work program.
Other Kentucky licenses require a master's degree in social work from a CSWE-accredited program, which allows students to focus on advanced topics in social work. Upon receiving a master's degree in social work, a graduate qualifies to become licensed as a certified social worker (CSW) or a licensed clinical social worker (LCSW) in Kentucky.
Licensure in Kentucky
In Kentucky, there are three different forms of licensure that allow an individual to practice social work. The U.S. Bureau of Labor Statistics provides brief information on each, which we have combined with information from the Kentucky Board of Social Work's site and applications.
Licensed Social Worker (LSW)
The LSW is the basic licensure required to perform social work within Kentucky, allowing a license-holder to practice non-clinical social work under supervision. In order to attain an LSW, a candidate must be at least 18 years of age, must possess a bachelor's degree in social work and must pass the Association of Social Work Boards (ASWB) bachelor's exam. The exam carries a fee of $230, and a candidate must also send a $75 licensure fee with the exam. Before taking the exam, a candidate must apply for licensure with the Kentucky board. This process requires a completed application, an official college transcript, three references and a $25 application fee.
Certified Social Worker (CSW)
A social worker who possesses a CSW may command higher compensation and may have access to more career opportunities, because of the higher education requirements of the certification. The CSW carries a licensure fee of $125. The candidate must take and pass the ASWB master's exam, which costs $230, and must submit an application along with an official transcript, three references and a $25 application fee. Upon receipt of the CSW, a social worker may practice clinical social work without supervision by contracting with a Kentucky Board of Social Work-approved licensed clinical social worker.
Licensed Clinical Social Worker (LCSW)
An LCSW is able to practice clinical and non-clinical social work independently without a board-approved contract. In order to attain an LCSW, a social worker must have at least two years of full-time post-graduate experience or three years of part-time experience and must have undergone supervision by a board-approved supervisor. An individual must submit an application, an official transcript, the supervised experience documentation form, official scores from the ASWB, three references and a fee of $25. The applicant must then complete the ASWB clinical exam, which has a fee of $260. An LCSW who holds the license for at least three years may complete a three-hour training course to become a board-approved supervisor.
Other Considerations
Individuals who have satisfied the requirements for a specific license but have not yet taken the corresponding ASWB exam can apply for a temporary permit, which allows them to engage in social work while they schedule and wait to take their exam. An applicant who wishes to do this must complete an application, supply a transcript and pay a $25 fee.
Kentucky does not have an official reciprocity agreement with any other state, so those wishing to become licensed in Kentucky must apply for licensure. Doing so requires an official transcript, official ASWB scores and verification from states where a license was previously held.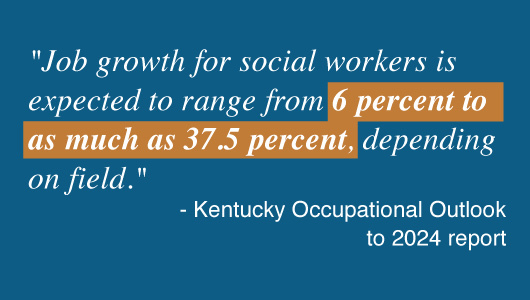 Practicing Social Work in Kentucky
Upon attaining a license, an individual can begin to practice social work in Kentucky. There are many fields of social work, but the most common are listed below. All median salary and career outlook information was provided by the Kentucky Occupational Outlook.
Healthcare Social Worker
Salary: $50,794
Healthcare social workers practice within the healthcare system. This includes medical social workers, geriatric social workers and hospice social workers. Medical social workers, under the healthcare social work umbrella, provide people with psychological and social support to cope with chronic or terminal illnesses. Their role is to act as educators, counselors and guides, creating, implementing and monitoring care plans for their charges.
Geriatric social workers handle similar issues, but they work specifically with the elderly, often in nursing homes. Geriatric social workers assist with meal delivery, home healthcare and transitions to nursing care facilities.
Hospice social workers assist patients in hospice situations, providing care and counseling to patients, their families and caregivers.
Healthcare social workers are expected to see growth of 37.5 percent by 2024.
Mental Health and Substance Use Social Worker
Salary: $34,841
Mental health and substance use social workers support people with mental illness. In clinical roles, both types of social workers can implement therapeutic strategies like crisis intervention and group or individual therapy.
Mental health social workers concentrate on helping individuals who are impacted by various mental health disorders. Assistance can include providing support and the resources needed to cope and help recover from the disorder. For instance, professionals in this field may refer their patients to counseling services and community services that can benefit individuals and their families.
Substance use social workers specialize in helping people who struggle with substance use. Like mental health social workers, substance use social workers offer support and resources, but they are knowledgeable of those that apply to substance use. The specialty is focused on helping patients overcome harmful addictions.
Note that both types of social workers can also help patients with goals like rebuilding relationships, returning to the workforce and getting back on their feet.
The field is expected to grow 31.5 percent by 2024.
Clinical Social Worker
Salary: $61,141 (Social Workers, All Other)
According to a survey conducted by the Substance Abuse and Mental Health Services Administration (SAMHSA), clinical social workers are one of the largest groups of behavioral health providers in the nation. For every 100,000 people, there are 62 clinical social workers. In comparison, for the same number of citizens, there are just over 2 adolescent psychiatrists. Their role is to diagnose and treat mental illness, to provide counseling and to collaborate with other mental health professionals to develop treatment plans and carry them out.
Clinical social work takes a biological-psychosocial approach to caring for patients, which examines the impact of biological issues as well as psychological and social factors on a patient.
The Occupational Outlook does not report specific salary and growth figures for clinical social workers. However, the "Social Workers, All Other" category is expected to grow 6 percent by 2024.
Child and Family Social Worker
Salary: $39,349
Child and family social workers are case managers for children and their families, helping to improve the family dynamic, prevent abuse and provide support and advocacy for the child. Child and family social workers may act as liaisons to schools and may manage adoptions and foster care scenarios.
These social workers can address such problems as teenage pregnancy, misbehavior and truancy in students. They could advise parents and teachers, as well as intervene when they feel a child is in danger due to neglect or abuse.
The field is expected to grow 17.5 percent by 2024.
Earn your Social Work degree online!
Prepare to make a difference in your local community with one of CU's accredited online social work degrees.
Explore Degrees
How Long Does It Take to Become a Social Worker?
Regardless of which state you become licensed to work in, becoming a social worker takes time. Earning your degree online, though, has an added convenience and flexibility that allows you to complete your education on a schedule that works for you.
Campbellsville University's social work degrees are accredited by the Council on Social Work and the Southern Association of Colleges and Schools Commission on Colleges (SACSCOC), and they feature well-rounded courses designed by faculty who have experience in many areas of the field.
BSW Degree at CU Online
The online BSW from Campbellsville University will teach you the foundations of social work so that you'll be prepared to work with individuals, families and groups.  In addition, you'll be able to choose electives to better tailor your education to suit your interests.
The online degree program, consisting of 120 credit hours, can be completed in as little as two years depending on how many transfer credits you have. Nearly half of the degree program consists of social work core curriculum classes, with an additional nine credit hours of electives. Students are also required to complete practicum hours outside of the classroom.
General Education Requirements (41 credit hours)
Social Work Area Core Courses

(42 credit hours)

Biology
American Government
General Psychology
Introduction to Sociology

Introduction to Social Work
Practice 1-4
Social Policy and Planning
Human Development
Human Rights
Human Diversity
Research Methods

Free Electives

(28 credit hours)

Social Work Electives

(9 credit hours)

Crisis Intervention
Marriage and Family
Values and Ethics in Social Work Practice
Faith-Based Social Services and Ministries
Child Abuse and Neglect
Child Abuse and Interventions
Introduction to Counseling
Death, Dying and Bereavement
Aging
Special Topics
Addictions
Conflict Resolution
Foster Care & Adoption
Medical Social Work
School Social Work
Independent Study in Social Work
When pursuing an online Bachelor's in Social Work, you must complete a minimum of 450 hours of field education at an approved agency as a requirement to graduate. You can complete this requirement on a full-time basis over two eight-week semesters or part-time over four eight-week semesters. Field education must take place at an approved practicum setting.
Pull-quote idea: CU online student handbook recommends being able to devote 15-20 hours per week to schooling
MSW Degree at CU Online
Campbellsville University's online MSW prepares you for career advancement within social work and is open to those with or without a bachelor's in social work.
Through the foundational portion of the curriculum, you'll learn the fundamentals and basic skills for performing general social work practice. Within the clinical track, you will focus your education on psychopathology, additions, clinical diagnosis and psychopharmacology. In addition, you'll learn clinical administration skills and study social working ethics.
Our online MSW is a two-year program that can be completed in as little as one year with the right pre-requisites. Eligible students who have recently earned a bachelor's degree in social work can enroll directly into the Advanced Curriculum. All students, though, will be expected to complete practicum hours in an approved setting.
Foundational Curriculum
(24 credit hours, 6 practicum hours)
Foundation Practicum I A
Foundation Practicum IB
Foundation Practicum IIC
Foundation Practicum IID
Human Development
Research
Practice Foundation I – Individuals
Practice Foundation II – Families
Practice Foundation III – Communities
Practice Foundation IV – Groups
Cultural Competency
Policy and Practice
If you are enrolling with a BSW from an accredited university, you would take a 24-credit hour advanced program, focusing on core components of social work.
Advanced Curriculum
(24 credit hours, 6 practicum hours)
Advanced Practicum IA (125 clock hours)
Advanced Practicum IB (100 clock hours)
Advanced Practicum IIC (125 clock hours)
Advanced Practicum IID (100 clock hours)
Psychopathology
World Problems and Advocacy
Advanced Practice with Children and Families
Change Theory
Program Evaluation
Leadership and Supervision in Social Work
Community Development and Grant Writing
All online students are required to complete field education. If entering the program at the foundational curriculum stage, you must complete 900 hours of field education. You only have to complete 450 hours of field education if you're enrolled in the advanced curriculum stage of the program.
Your Future in Social Work
Campbellsville University's online social work degrees will prepare you to become part of the next wave of advocates to support communities. We are ranked the fourth-most affordable among Christian colleges in the U.S., and we've also been recognized as one of America's best Christian colleges.