Compound your nursing skills with management expertise and pursue the next step in your career as a trusted nurse leader.

Ranked in the top 50 Most Affordable Christian Colleges in the U.S.
Program Details
Next Start Date: 8/23/2023
Course Length: 8 weeks
Estimated Length: 2-3 years (full-time/part-time options)
Credit Hours: 38
Cost Per Credit: $603
MSN, Health System Leadership Track Overview
The Health System Leadership track within Campbellsville University's online MSN program delivers extensive management and leadership training for Registered Nurses seeking career advancement. The program was developed in response to the growing need for graduate degree-prepared nurses to serve in management and administrative positions. Completing this program will equip you with the credentials to pursue these advanced nursing roles.
With a curriculum founded on Christian principles, this MSN degree, Health System Leadership Track, focuses on spiritual strength while preparing you to practice compassionate nursing and lead effectively through faith. Courses are taught by a faculty of industry experts who share their real-world nursing expertise in each class. With their support, you'll elevate your nursing skills to provide quality, evidence-based care to patients throughout the lifespan and contribute to excellence in healthcare by using effective management techniques in diverse health settings.
Program outcomes for the online MSN degree are mapped to the American Organization of Nurse Leaders (AONL) Nurse Executive Core Competencies and the Essentials of Master's Education in Nursing.
Once you've completed all required courses, you'll graduate with the expertise and credential to pursue a variety of nursing leadership positions, including:
Chief Nursing Officer
Director of  Nursing
Nurse Leader
Nursing Service Administrator
The Health System Leadership track within Campbellsville University's online MSN degree program is delivered through Campbellsville's virtual learning platform. As an online student, you'll have the flexibility necessary to balance your education with your professional schedule and personal commitments. You can complete the program as a full-time student in as little as two years and as a part-time student in three years.
Additional Program Information
---
Course Map
The Health System Leadership track within the online MSN degree program examines essential leadership concepts along with advanced nursing topics. Offered with full- and part-time options, the program requires completing 38 total credit hours, including 19 credit hours of core Master of Science in Nursing program requirements and 19 credit hours of track-specific requirements. Additionally, students will earn a minimum total of 240 practicum hours.
NUR 500: Leadership and Role Development for Advanced Nursing Practice
NUR 501: Health Care Delivery and Policy
NUR 502: Advanced Health Assessment and Diagnostic Reasoning
NUR 504: Healthcare Informatics and Clinical Decision Making
NUR 506: Theory and Research for Evidence Based Practice
NUR 507: Investigative Project
NUR 508: Health Promotion and Disease Prevention – Population Health

CJ 544: Introduction to Graduate Statistics
BA 604: Healthcare Finance
NUR 516: Quality and Safety in Healthcare
NUR 517: Leadership Role Competency, Practicum I
NUR 518: Communications and Relationship Management
NUR 519: Compassionate Leadership in Healthcare, Practicum II
NUR 520: Business Ethics and Advocacy
NUR 521: MSN Capstone I – Caring Theory
NUR 522: MSN Capstone II – Scholarly Project
---
---
Costs & Financial Aid
The online MSN Program Health System Leadership track costs $603 per credit hour. To give students more support in funding their education, Campbellsville University is committed to working with students to identify and pursue available financial aid opportunities.
Students can fill out the Free Application for Federal Student Aid (FAFSA) to determine what scholarships, grants, loans and payment plans are available. There are numerous options, and not all financial aid is based on need.

A maximum of 6 credit hours from a regionally accredited college or university can be transferred into this program.

Campbellsville University is a Military Friendly® School and a proud member of the Yellow Ribbon program. Students who are currently serving at home or abroad or are veterans can further their education in a conducive online environment.
---
Careers in Health System Leadership
Campbellsville University's online MSN Program Health System Leadership track prepares registered nurses for advanced nursing administration and leadership positions. In 2019, the median annual salary for nurses who complete an MSN degree was $43,000 more than those who complete only a BSN, according to the Bureau of Labor Statistics. The Bureau also reports that the need for health services managers is currently growing at a rate of 32%, and more than 133,000 new positions in this field will be created by 2029.
Partnerships
Did you know that Campbellsville Online has over 900 partnerships with local businesses? If your place of employment is a partner, you could be eligible for a tuition discount. Connect with an enrollment counselor today to see if you qualify!*
Notable healthcare partnerships:
T.J. Regional Health
Mountain Comprehensive Care Center
UofL Health
Lake Cumberland Regional Hospital
Baptist Health (KY)
St. Claire HealthCare
Taylor Regional Hospital
Clark Regional Medical Center
NorthCrest Medical Center
Ephraim McDowell Health
and more!
*Must be an employee or member of an organization in the university's Learning Partner Network. Tuition discount applies only to Campbellsville University online programs and may vary by program. This discount is for tuition only and cannot be combined with any other tuition discounts or institutional scholarships. To confirm tuition discount and program details, please consult an enrollment counselor at online@campbellsville.edu. Information presented may be revised without notice.
---
Why CU Online?
Focused on Your Growth

Our well-rounded education in the arts and sciences is central to our goal of fostering your personal and professional growth.

Faith-Based Education

Founded in 1906 as a Christian university, we welcome diverse perspectives and prepare students to become Christian servant leaders.

Affordable and Convenient

Campbellsville seeks to provide an affordable education for its students. Our online degree programs are in a convenient format, so you can study whenever and wherever you want.
Accreditation
Campbellsville University is accredited by the Southern Association of Colleges and Schools Commission on Colleges to award certificates, associate, baccalaureate, master's and doctoral degrees. Contact the Commission on Colleges at 1866 Southern Lane, Decatur, Georgia 30033-4097 or call 404-679-4500 for questions about the status of Campbellsville University.
Benefits of Learning Online
Campbellsville University offers several dynamic online degrees so that students can continue their education and hone their skills. Campbellsville's online campus has been recognized as one of the best by numerous outlets. The institution's faculty members have real-world experience in their fields, so students can get a glimpse of working in their prospective career. Students can also conveniently fit online coursework into their busy schedules.
---
Frequently Asked Questions
Still have questions? Visit our Frequently Asked Questions page for more information.
Yes. We offer a generous transfer policy for our online degree programs. Visit our

Transfer Students page

for more information.

Yes. You will have to complete the FAFSA form, and we will then determine your eligibility for any financial aid. Visit

our financial aid page

to learn more about your options, which include scholarships and grants.

You can apply to our online degree programs through the online application form. Remember to submit official copies of your high school and/or college transcripts, along with any other required documentation that is specific to your degree program. You can visit

the admissions process page

to learn more about what to expect throughout the process.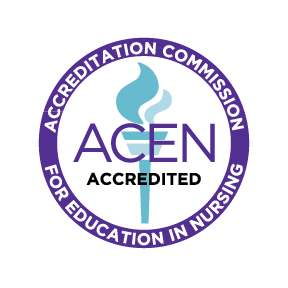 Accreditation Commission for Education in Nursing (ACEN) Disclosure
RN to BSN
The baccalaureate nursing program at Campbellsville University located in Campbellsville, KY is accredited by the: Accreditation Commission for Education in Nursing (ACEN).
3390 Peachtree Road NE, Suite 1400 Atlanta, GA 30326
(404) 975-5000
The most recent accreditation decision made by the ACEN Board of Commissioners for the baccalaureate nursing program is Continuing Accreditation
View the public information disclosed by the ACEN regarding this program at http://www.acenursing.com/accreditedprograms/
programsearch.htm
Master of Science in Nursing (MSN) Program
The master's nursing program at Campbellsville University located in Campbellsville, KY is accredited by the: Accreditation Commission for Education in Nursing (ACEN)
3390 Peachtree Road NE, Suite 1400 Atlanta, GA 30326
(404) 975-5000
The most recent accreditation decision made by the ACEN Board of Commissioners for the master's nursing program is Initial Accreditation
View the public information disclosed by the ACEN regarding this program at http://www.acenursing.com/accreditedprograms/
programsearch.htm