MSN Programs for Working Nurses
Advance as a nurse administrator, leader or family nurse practitioner with a master's degree in nursing from Campbellsville University.
Campbellsville's online MSN programs can help you pursue some of the most attractive roles in nursing. For instance, you could graduate and become a nurse practitioner or administrator. Those two titles are represented in the top 10 of the Bureau of Labor Statistics' list of the 20 fastest-growing occupations.1 They also both have six-digit salary figures, which is a mark that only three of the 20 occupations reach.
You can choose from two online MSN programs. The first is an MSN in Health System Leadership, which prepares you to serve in management and administrative positions. The second option is an MSN with FNP Track, which teaches you how to be an effective, independent family nurse practitioner.
Thanks to a flexible online format, you'll be able to learn from expert faculty and benefit from their real-world expertise while you work. You can complete either program in two years.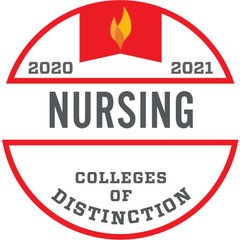 Colleges of Distinction has recognized and honored schools throughout the U.S. for excellence for over 20 years. The recognized schools within the Colleges of Distinction consortium distinguish themselves through their focus on exceptional experiences. Campbellsville's School of Nursing has met these needs with a blend of liberal arts education, program-specific training and abundant opportunities for real-world application.
Online Degrees
Master's
Careers with a Master of Science in Nursing
Graduates of Campbellsville University's online MSN programs can advance their nursing career and pursue professions including:
Advanced registered charge nurse
Chief nursing officer
Director of nursing
Family nurse practitioner
Nurse administrator
Nurse leader
Nursing service administrator