Learn When and Where You Want
With more than 50 fully online degree and certificate programs from Campbellsville University, you'll discover the flexibility you need to pursue your calling. Earn your degree when and where it's most convenient for you.
Campbellsville University is a comprehensive, Christian institution committed to academic integrity and personal growth. Our expert instructors and accessible advisors will help you prepare for success.
Why Choose Campbellsville University Online?
Affordable Tuition
Take advantage of competitive tuition rates as well as scholarships and other forms of financial aid.
Finish Faster
Transfer up to 72 credits toward your bachelor's degree (and receive a scholarship for your associate degree).
Top Ranked
Among our many accolades, U.S. News & World Report has named Campbellsville one of the South's top regional universities.
Flexibility
Learn 100% online using any connected device, giving you the convenience needed to advance your education.
A Guide to Online Bachelor's Degrees Post Pandemic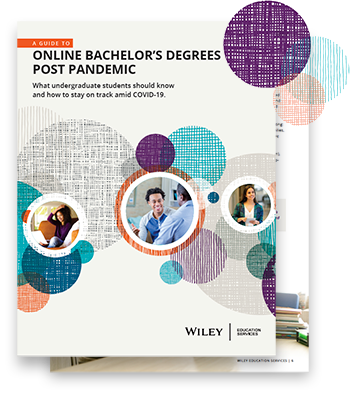 At Campbellsville University, we strive to make sure you have all the information you need to make decisions about your education confidently. We offer the following guide created by Wiley Education Services, in partnership with DegreesOnline.com,   A Guide to Online Bachelor's Degrees Post Pandemic: What undergraduate students should know and how to stay on track amid COVID-19. This free guide addresses the impact of COVID-19 on education. It provides insight into online learning, such as the online student experience, myths vs. facts about online education and the difference between proven online degree programs and emergency online instruction. We hope it serves as a beneficial resource.
Frequently Asked Questions
We offer six start dates for our online degree programs, with dates in the spring, summer and fall. Take a look at the

academic calendar

for more information.

Instead of attending campus, you'll log into an online learning environment to learn, perform coursework and interact with instructors and peers. It's the same quality program as you'd receive in person — but delivered to you wherever you are.

No. Your diploma will be the same as it would if you attended Campbellsville University in person.

Yes. You will have to complete the FAFSA form, and we will then determine your eligibility for any financial aid. Visit

our financial aid page

to learn more about your options, which include scholarships and grants.